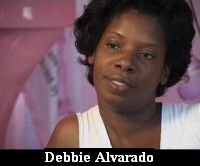 Its cancer awareness month but you might not know it; most of the regular awareness-raising activities like the cancer walk were called off because of the swine flu scare. But while H1N1's time upon the healthcare stage is fleeting, cancer continues to be the most devastating, deadly, confounding and costly disease of our time. Tonight, special correspondent Janelle Chanona takes an unflinching look at cancer in women, from the stigma associated with testing, to the terror of a terminal diagnosis, to the encouraging prospects for in-country treatment, and always, that most human hope for health, strength, and tomorrow.
Janelle Chanona Reporting,
For many of us the daily demands of school, work, and life in general rarely include a moment to ourselves. But have you ever stopped to think how your life would change if you or a loved one were diagnosed with a serious illness like cancer?
Debbie Alvarado, Cancer Survivor
"From then my life went up down, up down, up down, up down because I didn't believe it."
Pauline Albert Chinyere,, Cancer Survivor
"I lost hope. I saw my end. In fact you wouldn't know that I am the one who carry Bible to preach to people. I forgot God."
Janet Jones, Cancer Survivor
"I know I was sick so when I found out that I had cancer right at Universal in Belize City I cried."
The statistics on how many people in Belize have cancer is unknown. The World Health Organization estimates that in middle and low income countries like Belize approximately one hundred people in every hundred thousand are diagnosed with cancer every year. That means given our population, Belize should be recording about 400 new cases every year. But in Belize only the public health system reports cancer cases and even then they identify less than 50 new cases a year. Why the underreporting? The reasons might surprise you.
Debbie Alvarado,
"People look at you like you are nothing and that is the hurtful part because the people who you think will be at your side are the ones who turn their backs on you. People look at cancer like you have Aids and it hurts because you get tease. My kids get tease all the time."
Dr. Alba Mendez-Sosa,
"And for the classic signs of breast cancer, we can observe one spot that has so much espiculation around that generally when we observe this sign generally they require assistance as soon as is possible."
According to gynaecologist and Cancer Society President Dr. Sosa the sting of stigma and discrimination as well as the myths about the disease have stopped Belizeans from getting screened for cancer.
Dr. Alba Mendez-Sosa,
"For cervix, I afraid because I believe a pap smear is synonymous with catch cancer and I don't want to know if I have cancer. With the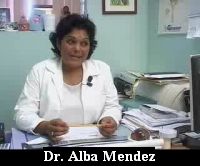 breast, the more frequent situation is I don't want to show my choo-choo to the doctor because of the doctors are male."
Laura Longsworth, Belize Cancer Society
"It is personal. Even for healthcare providers I think that we are not very comfortable managing cancer, talking about cancer and counselling about cancer."
Janelle Chanona,
Do you find anybody that shies away from cancer because they don't want any of the side effects?
Dr. Alba Mendez-Sosa,
"This is a big and a strong issue and that is the reason we lose so many people. This is in Belize because say I prefer I noh want to cut my breast and part of the treatment is just a surgical procedure, small or big. It requires the surgical procedure for the control of the disease. I noh want to lose my hair, I noh want to lose pounds. But one of the things we don't realize sometimes is what will happen with the children that are waiting for us everyday. What will happen for those persons that loves us and waits to see us every day. What will happen with the person that works with us and we are an important part of this group?"
Those were the questions Belize City resident Debbie Alvarado faced in 1997. The mother of nine was in complete denial, even when her body was telling her that something was very wrong.
Debbie Alvarado,
"I have small breasts and I usually go to sleep with my bra. Every morning when I woke up there was blood in it So I dih notice and the other night again I went to sleep, woke up again and there is blood in it and I said hmm, if I really like my breasts go back to sleep, wake up, see the same thing and I wanted to know every night and I decided it was a male fly because only a male fly would like a woman's breast and that is how I found out with the blood spots and everything and when my husband was at home at the time, Miss Juliet Soberanis was talking about it and the same symptoms that I had, she had it and that's when my husband said you have breast cancer and I said no way, I am too young. I was only 28."
There was no money in the Alvarado home to treat Debbie's breast cancer but with the support of friends, family, and the late Juliet Soberanis, the founder of the Belize Cancer Society, Debbie got the help she needed. In June 2009, she will attend graduating ceremonies for three of her sons and everyone will know she lived to see the day.
Debbie Alvarado,
"I will make noise because then it will make me proud that I did something that many other mothers didn't do because when I look at society today day, many mothers give up on their children and I didn't. Even with cancer I fight. Even when doctor told me I had cancer, I still had to get up and work."
Today Debbie works at the Cancer Society's office on Mercy Lane, sharing her story with anyone who will listen.
Debbie Alvarado,
"Some people choose not to educated just like Aids, they are ignorant about the fact. Some of them will say okay, God is punishing me for something because that is what they used to tell me, God is punishing you for something you did in your life that I even started to believe it myself. It was something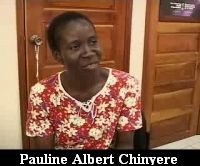 that I did and I kept questioning and asking God what did I ever do. Only know do I realize I didn't do anything, God chose me for a special reason and I was glad he chose me. I know now from a special friend that God picked me so I can be an example to many women who are willing to listen."
But for patients like Pauline Albert Chinyere, Debbie's determination to fight and beat cancer has been a source of strength and hope.
Pauline Albert Chinyere,
"You are not the first person and you can't be the last person and if these people, somebody like those people I read in the paper and Debbie and the people I've seen, they fought the battle and they won it, myself I made up my mind and with Christ on my side because the bible says with God all things are possible."
Pauline moved to Belize in early 2008 as part of a medical mission from Nigeria. But six months after she took up her nursing duties at the maternity ward at the KHMH, Pauline was diagnosed with breast cancer.
Dellone Pascasio, Dangriga Cancer Center
"The standard practice was for individuals given a diagnosis of cancer to also be given some directions from the surgeon to say you need to go and seek care outside and outside really would be three places; Mexico, Guatemala, or if you have the resources to do so the United States. Most individuals did not have the resources to do either of the three of them."
But in October 2008 two Belizean cousins living in the United States Dellone Pascasio, a hospital administrator and oncologist Dr. Elsworth Grant pooled their resources and with the support from the Ministry of Health officially opened the Belize Cancer Center.
Dr. Elsworth Grant,
"Our goal overall is not to quit where we are and rest but we have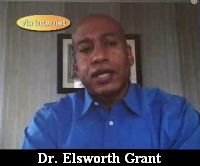 a lot more to do to bring services to Belize and I think next on our agenda is really trying to get a radiation machine as well as to allow us to comprehensively treat patients so they longer have to go abroad for treatment."
In between his trips to Belize, Grant talks to his patients via the internet.
Janelle Chanona,
Dr. Grant financially you've invested so much into this center, why were you personally motivated to do this?
Dr. Elsworth Grant,
"I know we can't help everybody but at present we're not able to help as much people as I believe we should and there are still people who will succumb to curable diseases for one or the other because we just don't have everything to do it in Belize. Healthcare really is, should be a right and I can't rest until we have what we have to have."
When Dr. Grant is not in Belize, hands on care is provided by chemo-nurse Sr. Carolyn Obi.
Sr. Carolyn Obi,
"Every time I need to educate them and give them education about the disease process and slowly they get to accept their condition."
Eight months into its operation, more than a 100 patients from across Belize and even as far as away from Guatemala and Honduras have been able to access the life saving treatment sessions at the Cancer Center.
Janet Jones,
"I've been surviving due to this place because the treatment is here and if you don't even have money, these people tend to you."
Every month 53 year old Georgeville resident Janet Jones wakes up at 4:30 in the morning and travels for two hours by bus to get chemo.
Janet Jones,
"You cannot say I will just lie and die. No, there is help now because I can say it because I feel very very good in my body."
Laura Longsworth,
"We are promoting the whole issue of cancer as a family, as a community issue, as hope and even when you know that it is a terminal illness, quality of life and comfort."
As education officer for the Belize Cancer Society, Nurse Laura Longsworth is responsible for promoting the Cancer Society's awareness, education, and screening initiatives. But the society insists that attitudes about cancer will only train when policymakers and community leaders start fighting the disease together.
Laura Longsworth,
"The Ministry can't do it on its own, private sector cannot do it on their own, and the Belize Cancer Society cannot do it on their own. We've got to strategically work together to ensure that at the end of the day we have a cancer prevention and control program. It is unethical to perhaps push to have people screened and then you don't have the service to offer them."
Dr. Elsworth Grant,
"When you look at the big picture, it is not only that one individual who is affected, but at times it is the entire family and so we really need to all pitch in even if it is just a little bit and it might not seem like much but at the end of the day it all adds up. Just don't be afraid to help the people around you."
The World Health Organization estimates that as much as 40% of all cancer deaths can be prevented simply by doing things like wearing sunscreen, going to get a regular medical check-up, eating properly, not smoking. But even if you are diagnosed with cancer as Debbie Alvarado highlights it does not have to be a death sentence.
Debbie Alvarado,
"I fight and I survived and if I survived it any woman can, just don't give up. Some women die because they choose to. They gave up, you don't have to give up. It don't matter what the doctor says that you have three months to live or four months or a year to live, a doctor cannot tell you how long you have to live- only you and God. You make that choice for yourself, don't ever give up. Fight harder."
Even without the hard data it is clear that at some point cancer will touch all our lives. For me it was losing my grandfather in 1997 to prostate cancer and then my uncle in 2005 to throat cancer. For many of us supporting the Belize Cancer Society has meant participating in events like annual cancer walk. But this year I wanted to do something different and Debbie has agreed to help. I am sending this to a cancer support group where women turn it in a human hair wig, a wig that hopefully make someone's battle with cancer a little less stressful.

And if you want to show your support for the Belize Cancer Society, the cancer walk has been rescheduled to June 13th. The SSB Ride Across Belize will also be done in support of cancer awareness and that is set for the 4-7th of June.