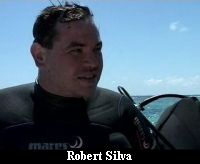 A world record was broken in Belize today. It was the record for the longest salt water dive. The old record was 36 hours and Robert Silva, an American citizen from Chicago, who had to spend at least 36.5 hours continuously under water to beat it. The rules were simple, he must spend more than the 36.5 hours under saltwater continuously. In addition – he must have spent at least 20 minutes at a depth of 20 feet. Sounds simple enough and on Monday morning at 10:30, Silva headed out to the Hol chan Marine Reserve on a boat from Ramon's Village. 48 hours later at 10:30 this morning he remerged and 7News was there. Keith Swift has the story.
Keith Swift Reporting,
7News was there for the moment at 10:30 this morning when Robert Silva emerged from the deep blue after being under water for 48 hours. Silva had made it.
Keith Swift,
"How do you feel?"
Robert Silva, Broke World Record
"A little tired."
And he is tired with good reason. The 31 year old from Chicago had just spent the last 48 continuous hours under water. He had little sleep and little to eat.
Keith Swift,
"What is the first thing you're going to do?"
Robert Silva,
"Eat some good."
Keith Swift,
"You weren't able to eat anything?"
Robert Silva,
"Just some liquid stuff and some liquid mixtures that was brought down that I could drink while I was down there. But outside of that, that's it. I hadn't had anything solid since Friday."
Keith Swift,
"While down how did you entertain yourself?"
Robert Silva,
"Basically just watch the fish, watch my team members who spent a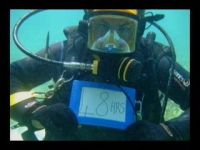 lot of time down there with me so I watched them. I had a couple of the same fish that came coming back time and time again so I think they were looking at me as part of the reef to them.
My hands are a little, just a little worn out and I imagine my feet are about the same way."
Keith Swift,
"Did you get any sleep?"
Robert Silva,
"A little bit, very little though. Every time I tried to sleep, I would hear something or wake up again. So no, in the past 48 hours I've probably had maybe 20 minutes of sleep."
Keith Swift,
"At any point did you want to give up, did you want to come up?"
Robert Silva,
"Last night was a little tough. I started to get pretty cold, things just didn't seem very normal to me for me a little bit but I just stayed calm, tried to get myself collected and made it through the night. Once I saw the sun come up this morning, I knew I would be okay."
Keith Swift,
"It is emotional for you?"
Robert Silva,
"Yeah it is a big feat."
A big feat and reason for emotion because Silva didn't just break the world record – he shattered it by twelve hours.
Robert Silva,
"It is something I decided I would like to do. I do a lot of fundraising back home and I decided to take my love of diving and my love of fundraising for charities and put it into one event."
He accomplished the record setting dive with technical help from friends and the crew at the Ramon's Village Dive Shop. They monitored him 24 hours a day – someone was always down there with him – watching and timing his countdown – by the minutes, the seconds, and the hours to the record books. But even more important was providing him an uninterrupted supply of oxygen. In forty eight hours he went through fourteen oxygen tanks.
Trisha Brewer, Friend
"Most of the time it was just being with him under water, just to support him and make sure that he was okay and then the other role was making sure that we took new tanks to him and changing the air on his tank."
Keith Swift,
"At any point did you get worried?"
Trisha Brewer,
"I think last night felt very eerie underwater, whether it was because it was the second night or it just seemed darker and everything. It was quite spooky."
Keith Swift,
"You guys came here together, did you ever doubt if he can do it?"
Trisha Brewer,
"Yeah I had every faith that he would it."
But now it is up to Guinness book of world records to acknowledge it.
Robert Silva,
"Every copy I get of any coverage done will be sent over to Guinness in London. It usually takes them a few weeks to get through things and it will also be published in the diving almanac, a book of records in 2010 edition that will come out probably in January or February. So it will be published in two places hopefully."
We worked on this story alongside our colleagues at the San Pedro Sun. As we said it is now in the hands of the Guinness Book of World Records. Silva has to submit his proof and they will make a determination. Robert Silva probably knew what he was doing when he set out to break the record by 12 hours since we know of one person in Australia who planned to spend 40 hours under water in October 11th and the 12th. That of course will fall short of Silva's record.
Underwater Photos Courtesy Tricia Brewer