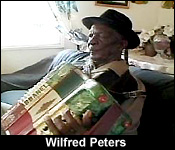 We open tonight with sad news: we have lost a great Belizean: Brukdown Legend and Belizean Icon Wilfred Peters passed away this afternoon at the KHMH. The 79 year old had a heart attack and died around 2:30. He had been hospitalized on Sunday after an asthma attack left him in respiratory distress.
This afternoon his son Wilfred Peters Jr. told us about his father's sudden and unexpected demise.
Wilfred Peters Jr. - Son of Mr. Peters
"We were here this morning about eleven o'clock, by the time we got here, they said one o'clock we will close. So we and him was talking together, he tells us he feels fine. We ask if he had any pain in his belly or anything and how he was feeling, he tell us he feel good, nothing wrong. So we went back home cause he had a job to play this weekend so he tells us to go do it and play his songs for him cause he can't make it cause he sick right. We didn't know that he was going to die right so by the time we went home and come back, they call we bout rough 2:30 to come at the hospital and when we came we saw him dead."
Monica Bodden
"From what I understanding, he suffered from a heart attack on Sunday?"
Wilfred Peters Jr.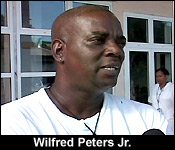 "Heart attack. First they tell us, they say that it was his lungs from due to he used to smoke but he stop smoke for years. But the old time thing came back on him. But when we went back they tell we now that he had a heart attack as we left. Yea when we left they call us about 2:30."
Monica Bodden
"Now on Sunday he wasn't feeling well?"
Wilfred Peters Jr.
"No, he wasn't breathing well so we rush him under full speed to the hospital. He couldn't breathe good so we get him a doctor to see him and this morning now the man talk to us strong, just like how me and you and I are talking right now, he talk to us strong, we didn't know he was going to die."
And while the passing of this legend is the headline, the significance of his passing is bigger than just news: that we are without this great Belizean, this great song man, is a cultural event and an inestimable loss.
Later on we'll speak with musician and radio host Tony Wright - a disciple of Mr. Peters - to gauge the significance and the legacy of this iconic Belizean.