The Christian Concession: GOB Will Appeal Section 53 Judgment
Fri, September 9, 2016
On Monday, the Prime Minister met with Church leaders to discuss the appeal of the Chief Justice's Section 53 judgement. Some of the Churches want a full appeal, but the Prime Minister made it clear that his Government is only prepared to make a narrow appeal of the Chief Justice's interpretation of the word "sex" to the constitution to mean "sexual orientation".
Both sides agreed to return to their constituents and then come back for a follow up meeting today. That happened today, and after 2 hours of discussion, the two sides came out and held a joint press conference. The news coming out of the meeting is that the Government of Belize is ready to launch an appeal of the section 53 judgment. Now government says it's not a full appeal, and that it's an important differentiation for the churches and which is why the Prime Minister says he's going to challenge it:...
Rt., Hon. Dean Barrow - Prime Minister of Belize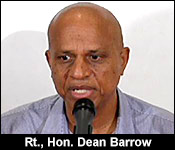 "I am very pleased to be able to report that we had an extremely, I would say, Pastor Lance, extraordinary successful meeting, out of which there is agreement as follows: Government will appeal the aspect of the Chief Justice's decision which extends or expands the definition of "sex" in the constitution to include "sexual orientation." As you know that is in the context of the constitutional protection to non-discrimination. That position government came to after an extensive review of the judgement and the advice of the attorney general. From the time of the Monday meeting we had communicated to the churches that we were prepared to appeal on that limited ground."