In the last hour of the Senate hearing yesterday, the committee called Francisco Gonzalez, who is currently the Acting Director of the Central Information Technology Office, CITO. Back in November 2013 to February 2014, he was assigned to the Audit Team which went in to investigate the Immigration Department for irregularities.
The team utilized his skills to extract information from the passport system. They cross referenced that with hard-copy records of application, to identify any inconsistencies, which could point to irregularities.
So, his input was very valuable, but a few months into the audit, he went away to Taiwan on training. The Auditor General and her team did not take too kindly to that decision. They interpreted his sudden exit as frustrating to their audit, which they assert was negatively impacted due to his absence and his contribution. Yesterday, Gonzalez testified before the Senate that his exit was not so sudden, and whenever he was called upon, he performed to the best of his abilities: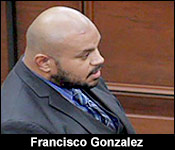 Francisco Gonzalez, Former Database Administrator, CITO
"I was there pretty much every day from November twenty-second up until the Audit team broke for Christmas break; and that was from nine a.m. all the way through to five, six p.m., depending on what time they decided to leave."
Aldo Salazar, Chair, Senate Special Select Committee
"This was...?"
Francisco Gonzalez
"2013. And in 2014 when I returned from the Christmas break, I was there from January up until February the same, then at some point it was requested that I come in the evenings, because I was falling behind [with] some of my work at CITO, because I was not there for the past two months. And I was also assigned to work with the Belize Electronic License and Permit System, that began with the Taiwanese ICT cooperation agreement; I was also assigned to perform my daily functions with SIG TAS, and I was also responsible for the development of an application for the Solicitor General. So I had three things going on at CITO while at the same time I was trying to do work with the Auditor General. So at tht time I was asked to go in the evenings and I was told I could claim overtime, although I don't recall specifically claiming any O.T., but after that, sometime around March or maybe it was before that - it is in an email in here; there was some communication between Mrs. [Michelle] Longsworth and the Auditor General whereby it was agreed that Mrs. Longsworth would be given a day's notice before I were to attend - if they needed me, they would give Mrs. Longsworth a day's notice. Now I recall going to work with them after it was agreed upon, and I do recall there being some disgruntled members from the Audit team that the Auditor General had to request that one day, and that she should be able to pull me whenever she should want, using the full force of the F.A.R.A. But I'm not sure; that's above my pay grade. That was a discussion that was between them."
Aldo Salazar, Chair, Senate Special Select Committee
"When she was here, she said that you were basically removed without any notice or any reason given to her and that you were sent away to study. From your perspective is that true? Was there no notice given to the audit team about your removal?"
Francisco Gonzalez
"No sir, because I did hand over all of my queries to Mr. Shane Reneau, who was a member of the audit at the time and he was the most IT savvy member of the audit team. I handed him all of my queries which are on the USB stick I provided."
Aldo Salazar, Chair, Senate Special Select Committee
"So to say that there was no notice would be inaccurate?"
Francisco Gonzalez
"That would be inaccurate. Now maybe that would be inaccurate but maybe the only where I erred on my part was I did not document that I did this. But I did hand over to Mr. Reneau."
Gonzalez also came prepared with documents to show the extensive work he did for the audit team, as well, as other documents to establish that he was not being uncooperative.