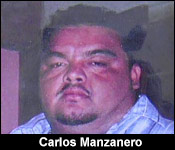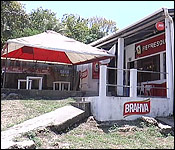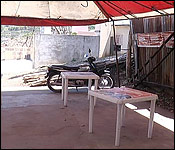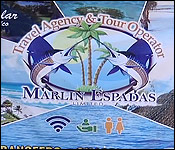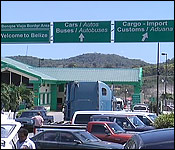 A father of 3 was gunned down and killed at the Western Border on Friday night. 40 year old bus driver Carlos Manzanero was hanging out with his family at Larios Bar around 8:30. A gunman then came out of a car and shot Manzanero several times. Police haven'r provided much details on this case, and the family didn't want to speak, but a couple of his friends told us what they know.
Courtney Weatherburne reporting
Since August 2016, Carlos Manzanero worked as a bus driver for the Marlin Espadas tour agency.
Every morning at 10:00 he would pick up passengers coming from Guatemala at the Western Border and take them to Belize City. And those coming from Chetumal, he would bring right back here to the border. But on Friday night, Manzanero's life was taken at this border crossing which he frequented everyday.
Manzanero, his wife and his brother were enjoying the evening out at Larios bar.
They were sitting at one of these tables when a man emerged from a car and shot at Manzanero. He was hit to the right hand and knee and several times to the stomach. Manzanero's close friend says she can't figure out why anyone would want him dead.
Voice of: Sandra Carillo
"He was a good person, we don't know why this happened to him."
Courtney Weatherburne, 7News
"Did he have any friends in Melchor or anything like that?"
Voice of: Sandra Carillo
"Yes he had friends everywhere because he is very friendly that's why I don't know why this tragedy happened to him."
The family couldn't give any more details as to what happened at the bar or why Manzanero was killed, but they certainly expressed how he will be remembered for his kind and jovial spirit.
Voice of: Friend
"He was very close to our family, he helped I mean, a ton of people coming from all over, helping and he was a great father and he was always kind and we are definitely going to miss him."
Manzanero leaves behind 3 kids. There will be a motorcade for him tomorrow at 1:30 in Benque, starting from his house.
While police no longer comment on criminal cases, townspeople suspect he was killed in this no-man's land by Guatemalan bandits. They note that this is the the second Belizean to have died in, or near to Melchor in a few weeks. Bullett Tree resident Amadeo Teck was reportedly killed in Melchor 10 days ago.