The National Trade Union Congress of Belize elected a new president on Saturday. This happened at an Emergency General meeting - after the last meeting in December, 2016, elected a president who was no longer eligible to be on the executive. So, Saturday's meeting was mainly to elect a new president. First Vice President Jacqueline Willoughby had been acting president and she offered herself to be full time president. Her only challenger on election day was Floyd Neal, the General Secretary of the Christin Workers Union. To the surprise of some, Neal, who is a relative newcomer to the union movement, easily beat out Willoughby - who has been prominent in the PSU for many years. In the end Neal garnered 45 votes to her 21 votes.
Today, Neal held a press conference to say that, under this leadership, the NTUCB - which represents 10 powerful unions - will take its rightful place as a social actor:...
Floyd Neal, President - NTUCB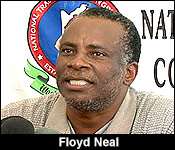 "Is a new chapter in my involvement with the labor movement in Belize, early days yet, but without a doubt the narrative out there, the image most Belizean workers have to TUC is of a toothless tiger. We need to change that. So my own thinking is that we need to get the word out that the days of TUC being a toothless tiger are behind us and we need to do things, we need to take steps, we need to forge partnerships, which will let the power that be recognize it's a new day."
Jules Vasquez, 7News
"Is the NTUCB divided after your election and do you seek to mend that?"
Floyd Neal, President - NTUCB
"Like you say there will be differences, but we are all adults at TUC. We are all committed to trying to get a better deal for Belizean workers. We are committed, we are passionate about this union movement. So, there is sufficient space even though we might have our differences, to stay focus on what needs to be the mission. So, I have no doubt that once we meet at the table, we will be able to decide how to we change the image of TUC out there among the Belizean workers. That will happen. I don't have any fear about that. We don't have an option but to make it happen, really."
Saturday;s meeting also elected a treasurer, and Hubert Enriquez was uncontested so he is the new treasurer of the NTUCB. All new Executive Committee members will serve a two-year term.