Almagro Visited Guatemala Villagers On The Edge of Belize
Mon, March 20, 2017
And while Ambassador Mendez was in Panama, his boss, Secretary General Luis Almagro was in Guatemala and Belize. We already told you how he did a flyover of Belize and what all he saw along the border, but what did he see in Guatemala? Well he visited villages along the border - those same villagers that pushed into Belize, and he was moved:...
H.E. Luis Almagro, OAS Secretary General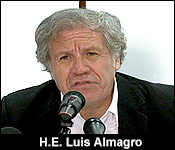 "The 15th we visited Guatemala. We were received by the minister of foreign affairs Carlos Raul Morales. We had a meeting with him and we talked about the different issues related to the, ah, the relationship between Guatemala and the Organization of American states. Ahm, as well, ehm the work in the zone of adjacency. With minister Morales we visited the communities of San Jose Las Flores Chiquibul, San Marcos, Monte Los Olivos, and Santa Cruz. We really appreciate the opportunity that we have to talk to the people of those communities. That was very important for us. It was very gratifying for me and i am extremely grateful to see these people how they work hard to overcome the difficulties and the problems that they have and they have to confront every day."
"We are very pleased with the visit, we are very happy with what we have seen, and the work that we have ahead is tough is not some easy way, but it's something that we are very committed to achieve the positive results that both countries need."