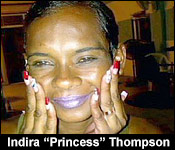 Last night, our headline story was about the murder of 36 year-old Indira Thompson, better known as "Princess". She was stabbed to death on Good Friday. Police suspect that she was killed by the Hispanic man she was last seen with, after she refused to have sex with him.
So do police have a suspect? Today, the Commander of Eastern Division Southside told us that they are still trying to track down the main suspect: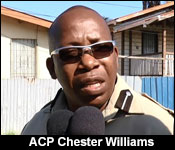 ACP Chester Williams - OC, Eastern Division South
"We are still looking for one individual. We have not been able to catch up with him but we are hoping that pretty soon we will and when we do we'll see how that investigation will progress from there."
Reporter
"There as suspicions that the individual who is said to be her boyfriend has a slash on his neck. Have you guys cleared him completely of all suspicion?"
ACP Chester Williams
"No not at this time. He and every other persons who are around at that time are still being treated as suspects but you will know that the law only provides us to be able to hold them for a certain number of hours and those hours have expired and so they were released but the investigation around them still continues."