Killing Emphasizes Dangers of Derelict Buildings
Wed, April 19, 2017
While the investigation into Thompson's murder is central, there is another aspect to this tragic story, one the City Council has been trying to address – and it has to do with the location of the brutal killing. It happened inside a shack tucked behind the abandoned Bellevue building. Now as we have reported, the city council along with NEMO and human services want to get rid of all these run-down buildings and structures around the city. Apart from being unsightly, they can serve as hide out spots for criminals and in this case, it was where Princess Thompson was murdered. Councillor Phillip Willoughby discussed the importance of demolishing these dilapidated buildings.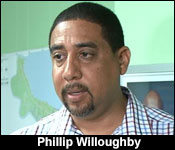 Phillip Willoughby - City Councillor
"I sympathize with the family of princess, I sympathize with the community but again this crime was committed from and out of an abandoned derelict building. I take this opportunity on behalf of the Belize City Council to say to the residence of Belize City, we take these concerns seriously. One murder is too much, one murder is too much out of a derelict building that we can do something about to prevent or mitigate against a murder or any type of crime at that. So it's about saving lives and protecting property and I hope the residence can bind to this project along with the city where over grown properties are concerned, abandoned and derelict buildings and derelict vehicles."
The team continues to make rounds in the city to pin point those buildings that need to be taken down. 34 buildings, 12 lots and 16 vehicles have been identified as hazards by the committee.