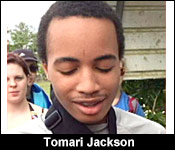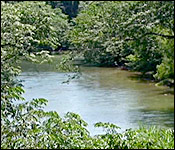 In February of last year, 14-year-old American Tourist, 14 year-old Tomari Jackson drowned in the Belize District.
He was part of a group of 33 US students between the ages of 14 and 15, and they were all in Belize with their chaperons from North Cobb High School in Kennesaw, Georgia. Well, the story is back in the American press after his mother, Adell Forbes announced that she is suing the Cobb County School System, the trip's chaperones, and the Monkey Bay Wildlife Sanctuary. Her case is being bolstered by a video footage of the teenager's last moments. He was wearing a body camera at the time of his drowning, and his family and their lawyer are asserting that the footage shows his death was preventable.
The attorney is quoted in a press conference from last week Friday, saying, "It chronicles his last breath... There's evidence from the video cam [that] there were chaperones…not paying full attention to what was going on."
Press reports say that the family played the video for reporters who attended, and it allegedly shows Tomari Jackson surfacing and trying to get the attention of others. It also allegedly shows him saying "help" twice before sinking to the bottom of the Sibun River. Later, his body was found under 25 feet of water.
For context, we revisit a story out of the US from February of last year:
Today, the Managing Director of the Monkey Bay Wildlife Sanctuary, released a statement.
While his statement does not address the lawsuit against him and the wildlife sanctuary, it says, quote, "Immediately following Tomari's accident, Monkey Bay directors reached out and communicated with Tomari's family and witnessed to his mother Adell what had happened at the Sibun River. Matt Miller, Monkey Bay Director, travelled to Atlanta with Tomari's remains to meet with Adell and personally express our collective sorrow for the accident. We also contributed funds to assist with funeral expenses and later visited Tomari's gravesite in Marietta… to pay our respects"