Police Warn Businesses About Delivery Truck Jackings
Wed, May 17, 2017
And while North side police are reviewing that surveillance video, on the Southside they are trying to get a handle on a spate of armed robberies that have been happening on Mahogany Street in the Lake Independence Area. Since last week, at least three delivery trucks have been robbed in the area. The pattern is the same in every crime, three men, one with a gun, taking money from the days deliveries. It happened again this morning and we asked the Southside Commander what they can do to stop it. He says the business owners have to help:..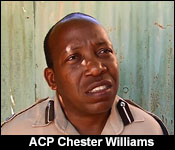 ACP Chester Williams - Commander, Southside Police
"The robberies are of concern we would like to give a notice to merchants and other business persons to ensure that whenever the delivery personnel are out in the field or collecting agents that they try not to try travel with too much cash on them, try to minimize the amount of cash on person and it is also important to not to allow as much people to know what are their delivery time as well as what the delivery routes are, if they can change the vehicle that they use to go and pick up cash, these things are also good because we know we are in a time where people are in need of cash and some of them don't have employment so they will resort to other means to get that cash. But in the time being the police we are doing what we can, we have stepped up our patrols in the Martins area, we know it is difficult, it's a huge area to control and there are other things that were are putting in place to be able to mitigate the occurrence of those type of crimes and we are hoping that what we are putting in place will work."
For today's robber, police are seeking a suspect from the area, but in the other cases, no suspects have yet been identified.