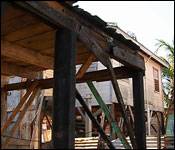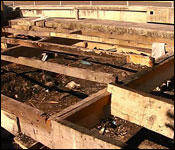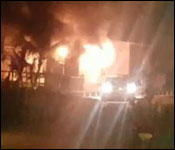 Just as the news was finishing last night, at 7:45, the Fire Department got the report of a fire near North Creek canal. That's a block away from the Southside fire station - and the fire truck was there within two minutes. But, still, it was too late: two buildings burnt down. The station officer told us more - and police filled in with details pointing to the fact that it is an arson:..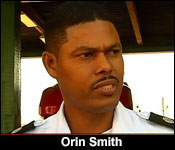 Orin Smith - Station Officer, National Fire Service
"On arrival on scene found were two structures already engulfed in flames. Approximately 12 by 15 bungalow wooden structure and an elevated 10 by 14 wooden structure approximately 10 feet off the ground were engulfed in flames. The national fire service went into operation to extinguish the fire, both structures were later extinguished. Investigation reveals that the fire was the result of an incendiary or the fire was classified as incendiary. Neither of the two structures were insured."
Jules Vasquez
"Since and incendiary device was used, in creole we would say arson."
Orin Smith
"Basically yes and in creole as you mentioned people normally say it is arson."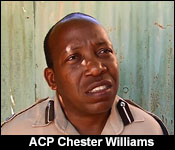 ACP Chester Williams - Commander, Southside Police
"From what we are gathering that there was a dispute between a father and a son and resulting from the dispute the son was the one who lit the place on fire and so yes the police are looking for the son and if the information that we have received is true and if the father does give a statement against his son then more than likely he'll he charged with arson."
Reporter
"Can you say if the firemen when they were battling the fire were being stoned by some guys in the area that police had to get after them and tell them not to stone the firemen?"
Orin Smith
"I can confirm that I was on scene yes, they were being stoned by individuals who lived adjacent to where the structures were burning and a police officer did indeed get after them and put an end to it."