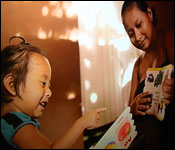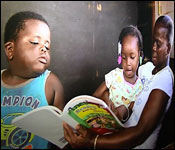 "Positive Play, Positive Minds, Brighter Tomorrow." That's the theme for this year's Early Childhood Development Conference. It sounds straightforward enough right?: Just play with your kids and interact with them. But it's more than that; it's really about sculpting a child's future. Courtney Weatherburne has more details on the conference and how proper stimulation will impact children's lives.
An individual's personality, social skills and cognitive abilities are shaped during their early years. According to Dr. Zoyah Kinkead-Clark from the University of the West Indies in Jamaica "You can tell how a child at 3 years old will act at age 15."
Educating and engaging a new-born may not seem as top priority for a parent compared to providing them with basic needs, but studies show that a child's development starts even before birth.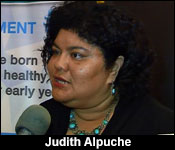 Judith Alpuche - CEO, Ministry of Human Development
"We are focused on the first 1000 days of a child life which is critically important and that 1000 days starts from Day 1 of pregnancy up to when the child is 2 years old and what you find in scientific studies is that from the child is born to when the child is two, 75 percent of brain development happens within that period of time."

And to ensure that these kids get the most out of this crucial time, an Early Childhood Development Strategy Plan was launched today at a conference.
John Newport - Director, Quality Assurance & Development Services, MOE
"What makes this conference a little bit unusual is that it is a joint effort between the Ministry of Health, the Ministry of Human Development and the Ministry of Education."

Judith Alpuche
"Human development is involved in social safety nets we provide support for families that are disadvantaged and that is critically important particularly as you are talking about young children and the need for nutrition etc., we also work with children birth to 3 providing stimulation services we have our parenting program."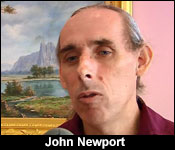 John Newport
"The overall purpose is to launch a new set of initiatives to ensure that the services that are provided to young children in this country are coordinated, well thought out , effective and in a particular the…when a child is moving between the ministry of Health environment to an education environment that for the child should be seamless , that there should be easy and smooth transitions so the messages that go out from each of the ministries and the way the child is treated is pretty much the same."
This joint strategy plan focuses on the health of the mother and child during pregnancy, it also encompasses creating a safe and productive environment for kids to learn and grow, both at home and in preschool.
John Newport
"A child that is in a good environment with lots of stimulation and with an absence of too much stress that child is likely to grow up strong, healthy and resilient and able to learn but a child who is not in that kind of environment, the research now shows that there can be lifelong impact, so a really, a toxic stress situation for a 1 year old actually impacts the next 70 years of their life."
But in order to actually have an impact, the strategy will be taken to the community so parents and teachers can adapt to the module.

Judith Alpuche
"We have brought in line staff from the 3 ministries from all over the country and they will be sitting down district by district talking about okay so how does this role out in my district and how do we work collaboratively."
In 2 years, there will be an evaluative process to see if this strategy plan actually worked. In terms of figures on the ground, there has been an increase in preschool enrolments from 33% in recent years to the present figure of between 50 and 55%.