Belize Spared the Wrath and Wreckage of TS Nate
Fri, October 6, 2017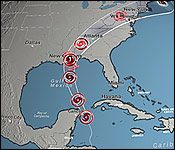 Tropical Storm Nate sailed by Belize - with the center of circulation passing about 240 miles east of Belize City. No Tropical Storm Watch was declared, and there was no loss of life or storm related damages in Belize. Central and Northern Belize did not report heavy, or any, rainfall.
But our Central American neighbors were not so lucky. As we told you last night, an estimated 22 deaths have been reported in Costa Rica, Nicaragua and Honduras and El Salvador.
Tonight, Tropical Storm Nate is just southeast of Cancun and close to Cozumel with winds of 65 miles per hour. It should pass over Cancun early tomorrow morning cross the Gulf of Mexico and make U.S. landfall as a Hurricane this weekend.