Pink Eye Outbreak Produces Record Numbers
Fri, October 6, 2017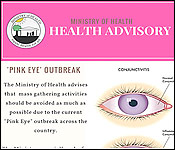 If you're a Belizean - tonight, someone you know has Pink Eye, that's for sure! The Ministry of Health reports that more than five thousand cases of Pink Eye have been reported in Belize in the past four weeks, and we know that what is reported is only a percentage of the total cases: since many who contract it, just stay home and treat it with eye drops.
Tonight, the Ministry of Health has issued an advisory for the Pan American Day long Weekend. The notice says that mass gatherings should be avoided as much as possible and travel should be minimized within the country and across the borders unless extremely necessary.
Now, that's to avoid getting it. But if you already have it and you are a social security contributor; here's what you should do.
First off, don't go into your social security office immediately to claim your benefit. Yes, that is the rule, but it is being suspended because the Ministry of Health is advising all those with Pink eye to stay home.
Social security says that for this outbreak, it will accept sickness claims for Pink Eye AFTER the four days as late with good cause for delay.
Claims must be brought in immediately after recovery, and filed no later than two weeks after the illness to be consider don time.