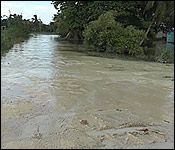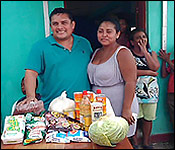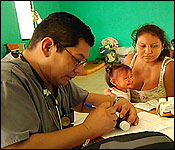 Residents of Santa Marta village in Orange Walk need as much help as they can to get their lives back together after an epic flood - the kind which has not been seen in their village for 17 years.
The flooding began on Monday and as we told you about 50 families are dislocated because their homes and all their belongings have been damaged. Well today NEMO Coordinator Elodio Aragon Sr told us that NEMO personnel among other teams have been in Santa Martha since Tuesday, securing food and supplies for the residents. Via telephone, Aragon Sr. told us more about the relief efforts.
Hon. Elodio Aragon, Minister of State, Home Affairs
"I got a team. We went there from Tuesday morning. We check the situation and we say this is really serious because the water kept on coming up and we said we have to be on the ground from Tuesday. By Tuesday evening we had opened shelters, we have delivered food. We delivered enough food for 3 days and then what we did us start to monitor things and then we started calling making in contact to groups that we had to. For example we called the food and supply committee. We told them prepared food because the amount of food we took was not enough."
"We also called the medical team and we instructed them that we should come to Santa Martha and see the situation."
"The flooding that really covered 90% of the village, about 90% of the village have been gone. So it's a village that has been hit twice at the same time: One with the flooding and one with the pink eye and I must tell you that NEMO has put a tremendous attention because we understand the situation of the village. I'm saying it is the poorest village in the district of Orange Walk."
Jules Vasquez, reporter
"Do you all have any idea what have caused this flooding?"
Hon. Elodio Aragon
"Well it's an extreme amount of rain."
Jules Vasquez, reporter
"Is there like a nearby river way that has run over or its just inundated nowhere for the water to run?"
Hon. Elodio Aragon
"Right. If you ever traveled to Santa Martha you will notice that on both sides they have lagoons and so I think the immense rain, the intensified rains that have been coming have over flooded and filled all the lagoons next to it. So Santa Martha will stay in the middle get flooded also."
SO as you heard, apart from the flooding, many residents are suffering from pink eye. Now in terms of flood relief - Santa Marta is a farming community and many residents lost all their crops. Aragon says a team will be going to Santa Martha to assess the level of damage to crops. The teams on the ground continue to monitor the situation and say that the waters are receding.
Today, area representative Elodio aragon Jr. went into the community with two truck-fills of relief supplies and a medical team.