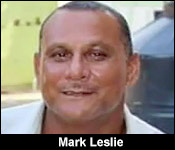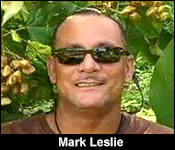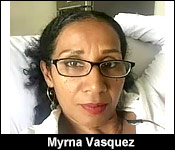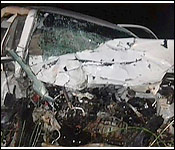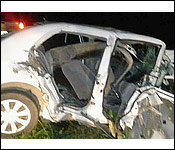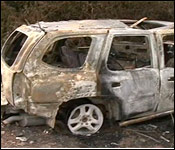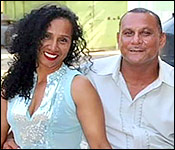 When we left you on Friday night, it was with the news that there had been a double fatal road accident on the Southern Highway near mile 12.
This one happened not far from where married couple Allen and Melissa Andrews had been knocked down two weeks earlier. Melissa Andrews - the mother of one child - died from her injuries.
Well on Friday night, another Stann Creek couple were the victims - except this time - both husband and wife were killed - leaving their 4 children without parents.
Daniel Ortiz reports on the accident that claimed Mark Leslie and Myrna Vasquez:
Daniel Ortiz reporting
When we got a chance to sit down and speak with Laurna Grace Diaz at her Placencia home today, she was still managing to keep it together. Only 3 days ago, she lost her son, 48 year-old Mark Leslie, and her daughter-in-law, 49 year-old Myrna Vasquez, in a terrible accident which also put her grand-daughter, 17 year-old Aurora Sanchez, in the hospital.
Laurna Grace Diaz - Mother of Deceased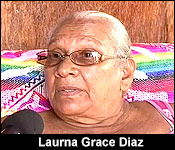 "I am a Christian, and I put my belief in God, and me make me strong. Sometimes, I think about it because I went to see him, and I always pictured his face. But, when it comes to me I just try to block it out, because I know I have to stay strong, especially for the rest of my family."
That accident happened on last Friday night, sometime around 7 p.m., here at this stretch of road between miles 11 and 12 on the Southern Highway.
Mark Leslie was driving a white Toyota Corolla, which turned into this mangled mess after the accident. His common-law wife, Myrna Vasquez, was in the front passenger seat, and his daughter was in the backseat, behind him on the driver's side.
They were heading to Placencia when they collided head on into a cream colored GMC Envoy, which, according to police investigation, shouldn't have been in their lane.
Laurna Grace Diaz
"The only thing I know, what the police told me, was that it was the fault of the other vehicle driver, that made the accident happen."
Leslie and his wife rented the car to travel to Belize City to pick his daughter. They were going to celebrate both of their birthdays in Belize City. They had planned a small birthday party.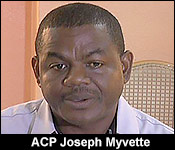 ACP Joseph Myvette - OC, NCIB
"Sometime around 6:15 pm - the deceased Mark Leslie along with his common law wife Myrna Vasquez was traveling and their 17 year old daughter was traveling southbound on the southern highway between miles 11 and 12 when upon reaching that area, a SUV Chevy Envoy I believe, GMC Envoy traveling in the opposite direction was attempting to overtake a tractor with trailer."
Garrett Longsworth - Long-time Friend/Business Associate
"We grew up here together. We actually born on the same day two years apart. So just before he went on that trip, he phoned me and said, 'Get the grill ready because we're having a party on Saturday', because it was his birthday. So, yah, no, devastating."
Devastating because he didn't make it. That trip that was supposed to lead to cherished memories of them bonding as a family, has turned into a painful double tragedy.
Leslie died, most-likely at the point of impact, or shortly thereafter. So did Vasquez. Aurora Sanchez suffered a broken leg, among other injures. She told her family that she was conscious the entire time, even up to the point when she realized that her dad had died.
Laurna Grace Diaz
"Because of my son trying to avoid from getting his daughter hurt, that's what made him get the whole impact of it. His neck was broken. Instantly, he was gone, and that's what he would do. He's that kind of person. He cares for other people."
"She knows what happened. She knows everything that happened. She said so. She didn't lose consciousness until after she realized that her dad was dead. She was behind him, and when she saw him, she told the grandmother that my dad isn't dead, and kept reaching for him, but when she held him, that's when she realized that the neck is broken."
"From what they told me, it's just her leg, it's broken in two places and that she was supposed to go into surgery today, to get that fixed, and she complains about pain her chest. They said that they had to cut them out of the vehicle because - the police said that when he got there, he (Leslie) was slumped over like that, and they couldn't get them out, if they didn't cut the door."
We found the remains of that GMC Envoy at the side of the road. Apparently, after the impact, that SUV caught on fire, and its wreckage was completely destroyed by the flames.
Police say that it was being driven by 35 year-old Delmar Ortega, and he had his family in the vehicle with him, 30 year-old Maria Ortega, 5 year-old Viancey Ortega, and 20 year-old Sabido Pimentel.
ACP Joseph Myvette - OC, NCIB
"As a consequence, the SUV collided into the car causing both persons to die on impact. The SUV then burst into flames. At the time, the SUV had four occupants who also all received various degrees of injuries. The investigation is ongoing."
These families now mourn the death of their loved-ones, a loss that will affect the community as well.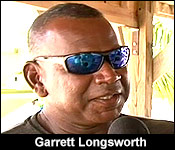 Garrett Longsworth - Long-time Friend/Business Associate
"One thing I think are gonna miss from him is his laughter. You know what I mean? He had a very contagious laughter. It came all the way from inside, especially the guys at the dominoes table."
"He's very passionate about this community, and the work he does. So, I think for the village, we good voice there, somebody that really cared about what he does and his community."
Laurna Grace Diaz
"I know the time will come when I'll break down because these things happen. They got to come. He's my son, and he was my friend."
We are reliably informed that Myrna Vasquez had 3 daughters, while Leslie only had his one daughter, who remains hospitalized at this time.
So, the fatal accident involving this couple and Melissa Andrews happened about a mile apart.
Similarly, in October, there were two fatal accidents at mile 31 on the same Southern highway - and these ones happened just a few hundred yards from each other - 48 Hours apart.