Shot in Foot, Broad Daylight, Busy Intersection
Mon, November 13, 2017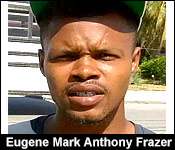 There was a broad daylight shooting in Belize City on Saturday. It happened on Magazine Road and the victim was 41 year old Clinton Dale Abraham. Police told us how he was shot while riding a bicycle past a busy intersection:..
Insp. Wilfredo Ferrufino, CIB - Belize City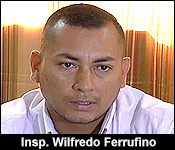 "Police received information of shots fired on Magazine Road. As a result police visited the scene. However, the victim was already transported to the KHMH. That victim is Clinton Abraham, 41 years old resident of Belize City. The initial investigation has revealed that he was riding on Magazine Road heading in the direction of Cemetery Road, when a lone gunman approached him and fired a single shot at him which caused an injury to his left knee. He was treated and released. One person is detained at this time."
Jules Vasquez, reporter
"Was there a robbery motive, was there a personal motive, was there a gang motive in this Magazine Road shooting?"
Insp. Wilfredo Ferrufino, CIB - Belize City
"At time there is nothing to indicate that. The victim has indicated that he has no recent dispute with anyone and the person that we have detained is not indicating anything. The victim is not known affiliated to any gang. The shooter or the person that we have detained does have some affiliation with gang in the area."
This evening, police arrested and charged 26 years old Eugene Mark Anthony Frazer, Belizean Laborer of a Belize City address for "Use of deadly means of Harm and Wounding."