Clifford Caught with .38
Mon, November 13, 2017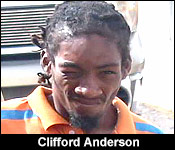 In the case of a gun that WAS NOT labeled as found property, Twenty-four year old Clifford Anderson was charged today for kept firearm and ammunition without a license.
Appearing before Chief Magistrate, Sharon Fraser. Anderson pled not guilty. He was remanded until January 22nd.
On Saturday November 11 police saw Anderson by 88 Shopping Center, located at the corner on Neal pen Road and Central American Boulevard. They said when Anderson saw then he jumped on his bicycle and rode off. The police say when they caught up with Anderson on Arlington Drive they saw him throw an object in an open lot. The police retrieved a .38 revolver special with 5 rounds in its chamber.