Ardon, Alleged Serial Molester
Wed, January 10, 2018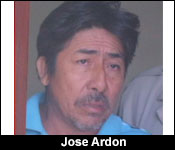 Police say 52 year old Jose Ardon is a serial child molestor, and today he was hit with 11 more charges - after being assessed with two charges of unlawful sexual intercourse in July of last year.
Today, he was back in court - facing 11 more charges of the same count. He is accused of initiating relations with a 14 year old in August 2016, and doing so, once monthly up until June 2017.
Ardon was released on the same bail he got from the Supreme Court after he was charged with the first two offences.