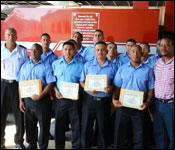 And, today that kind of readiness, hard work and perseverance paid off for 12 firemen who graduated from the leading firefighter promotional course. The course started in November and ended in December. We stopped by to hear from the graduates and learn more about the course.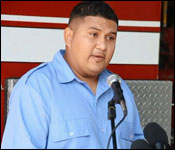 Graduate #1
"The course covered eight major topics hydraulics, hazardous material, fire behaviour, size up, incident command, report writing, fire investigation, and fire control. These topics combined to create a foundation for us firefighters to perform efficiently and to reach our ultimate goal, to save lives and protect property."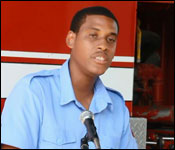 Graduate #2
"We encouraged each other on a daily basis, studied with each other, discussed the day's activities in the dorms, even developed questionnaire for the tests to help each other with the studying. This in its self-attested to the level of maturity that this group of now leading firefighter have and I pray that we only continue to grow on this."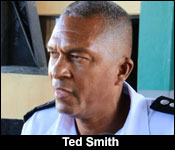 Ted Smith - Fire Chief
"The promotion course is a leading firefighter promotional course that is the first stage of becoming an officer. In truth, our officers start from a substation officer but they are making the first stage to become an officer. They become a leading firefighter which is a rank higher than a firefighter and has much more responsibility than a firefighter."
Reporter
Do you have a need for officers at this point?
Ted Smith
"Of course, we have the need. We just last year also ran a cadet fire service course. The fire service has the need for leading firefighters. There are vacancies and we have the need for it hence the reason why we are running these courses and trying to qualify these people to take on these additional responsibilities because they need is there."
The course initially started out with 17 participants which was whittled down to 12 by the end of the 6 week training.
7News for Wednesday Jan 10, 2018 from 7News Belize on Vimeo.