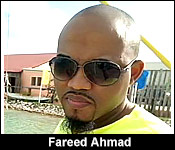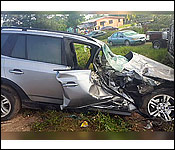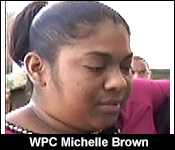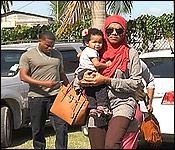 It's been exactly 2 weeks since Fareed Ahmad, the well-known barber, football referee, community worker, and Muslim was killed. Woman Police Constable Michelle Brown is currently on remand for his murder, but her imprisonment has done nothing to ease tensions between police and the family, and, by extension, the local Muslim community. And a flurry of dubious text messages speaking about a hit-list and a murder conspiracy against the family, cemented suspicion into a full fledged conspiracy theory pitting the police against the entire Ahmad family.
So, to try to defuse tensions and clear the air, the police senior command, and the top political personalities of the Ministry of Home Affairs met with representatives of Ahmad family, and leaders of the Muslim faith. That happened at their mosque at the corner of Central American Boulevard and Fabers Road this afternoon.
At the beginning of the meeting, we saw officials such as Home Affairs Minister Wilfred Elrington; CEO George Lovell; Police Commissioner Allen Whylie; the Head of Professional Standards Branch, ACP Chester Williams; and the Head of NCIB, ACP Joseph Myvette who attended the meeting, and these officials dutifully observed the respect for entrance into the Muslim community's place of worship.
That meeting lasted for just over 3 hours, and when it was concluded, the press got to speak with designated representatives from both sides. They agreed that an olive branch was extended: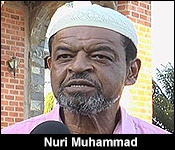 Nuri Muhammad, Spokesperson - Local Muslim Community
"There's a high level of anxiety. In fact we are still not over the tragic murder of Fareed. So that was really the background that drove the community to say let us sit down and find out really what the facts are. There were many rumors out there and things that caused alarms to go off. Many of them you already know in the media, some of it are very hard to explain. Even today some of the matters are still not clearly explained. The impetus for inviting Minister Elrington and Minister Aragon, the commissioner of police and the other high command is because we felt it was necessary as the largest and the indigenous Muslim community here, it is our responsibility to sit down as civil individuals with the government of the day and find out from them what is going on as opposed to depending on rumors and gossips."
Hon. Wilfred Elrington - Minister of Home Affairs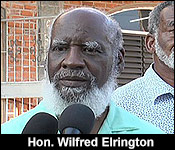 "For my part, I have offered to bother Nuri whom I have known for so many years. I told him I'd be prepared, if he can, through the assistance of Brother Farrakhan whom we both know and who has a fairly extensive operation in the United States. If he can get through the assistance of Brother Farrakhan, an expert, to come to Belize to look at what we have, to do investigation, we'd have no difficulty. So that the family can be satisfied that no stone is being left unturned to deal with this matter. I also made very clear to them that from the experience which we have had in region, because as a region we discuss these issues and not too long ago there was an allegation of extra judicial killing in Saint Lucia. The United States authorities did not stop until it caused the commissioner to lose his job and even here in Belize for police officers whom they have taken to the view are guilty of human rights abuse, they have stopped permitting them to participate in any training or activity that they have that is sponsored by U.S. funds. Because they have zero tolerance for any kind of extrajudicial killing or for any type of human rights violation by the security forces."
Nuri Muhammad
"Certainly the statements made today by Minister Elrington brought a bit of cool water into the atmosphere that was very hot and hostile when the meeting started."