New Surveillance Video Suggests Ahmad-Brown Connection
Thu, January 11, 2018
The main topic of discussion was the investigation into the murder of Fareed Ahmad, and all the very unusual elements which has convinced the family that a wider conspiracy is at play.
Home Affairs Minister Wilfred Elrington told the press that Assistant Police Commissioner Chester Williams revealed in the meeting today that there is new evidence. It's a surveillance video of the night before Ahmad was killed which shows him picking up WPC Michelle Brown, and them driving away in his SUV. Here's how Elrington explained the conversation between Williams and the family from this evening:
Hon. Wilfred Elrington - Minister of Home Affairs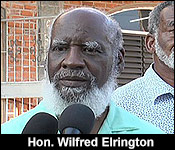 "What was very fortunate was that we had present among us, assistant commissioner of peace, police Chester Williams, who was an attorney at law as well as a very seasoned police officer whose responsibility is to make sure that the police behave properly. That is his real remit, but for some reason or the other, he really went head and shoulders into the investigating of this incident. He was able to relate to the members of the family what his discoveries were. He essentially said he is very satisfied that there was no evidence of state involvement in the death. He went on to say, and I did not know, that it was in fact the deceased who picked up the police woman and there is in fact a video of them being together for some time. He suggested to me, a number of hours, and there was no indication during that course of time that any other person from any branch of the police force was anywhere nearby. He was satisfied that based on the evidence, there is no indication that the state had anything to do with the death or that the police had anything to do with the death. He also made it very clear to the family and to everybody that in fact police has requested of the BTL, all the phone records of the deceased as well as from the woman police officer. He left the very clear impression that no stone is being left unturned. There is absolutely no basis for suggesting that this was extrajudicial killing or that the state had anything to do with it. So far, the only indication is that this police officer whom was off duty at the time was the only person involved."