Krismar, Killed Once, Not Twice
Thu, January 11, 2018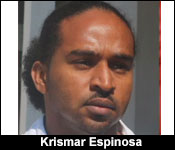 Last night we told you about convicted killer Krismar Espinosa. He is already serving a sentence for killing Rachel Chun - and he stood accused of killing a fellow prison inmate Keon Swasey.
But, after two hours, the jury of 6 men and 6 women was not convinced he had done it. Last night just after 6:00, they found 28 year old Espinosa not guilty of murder and not guilty of manslaughter in the stabbing of Keon Swasey. The verdict in each case was unanimous. It is his second trial for this murder - and he was found not guilty on both occasions.
Justice Adolph Lucas presided over the trial. The Crown was represented by Sheringe Rodriguez while Anthony Sylvestre was Espinosa's attorney.