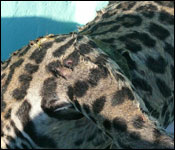 Yesterday we told you about the young male jaguar whose carcass was found floating in the Belize River. But, disturbingly, this was not an isolated event. Back in December, a similar photo surfaced of another young jaguar that was found in the canal near Water Lane.
This has raised a major red flag for the Ministry of Agriculture, Fisheries, Forestry, and the Environment. Tonight, they are offering a reward of $10,000 dollars to anyone that can provide information leading to the arrest and conviction of the persons involved in the two recent incidents.
And more than that, the ministry says that given the cruel nature of the death of these endangered apex predators, they will raise the penalties for this and any other wildlife crimes above the current $10,000 dollars or 12 months in prison.
Today they sent out a release reminding the public that it is illegal to hunt, kill or sell endangered cat species such as jaguars, margays, ocelots, and pumas. In this regard, an enforcement operation in Placencia Village recently yielded confiscations of jewelry made from jaguar teeth.
Belize has the only dedicated jaguar preserve in the world and is known as a world leader in jaguar conservation.