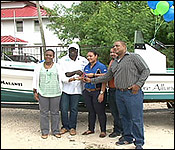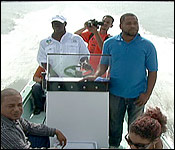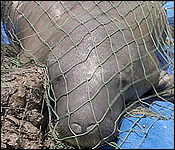 In mid-December we told you about the Sea to Shore Alliance vessel operators training. The focus was on employing safe boating practices to protect manatees. Well, another very important element in creating awareness is enforcement and Sea to Shore Alliance does that through their patrols. Today, the Alliance got a much needed donation that will have a significant impact on their work. Courtney Weatherburne has more:
Courtney Weatherburne reporting
For Jamal Galvez and his team, gliding across the still waters of the Belize River Mouth has become part of their routine.
But they are not out there for the wind and waves. They are on patrol -making sure manatees are safe.
Courtney Weatherburne, reporter
"How often do you all go out on patrol?"
Jamal Galvez, Program Coordinator, Sea to Shore Alliance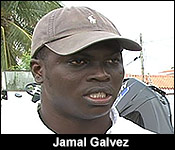 "We are going to try and do it especially on Criuse ship days so probably 3 to 4 days a week and the effort isn't only in Belize but also in Placencia, this boat will trail down to Placencia when needed there and high season as well to try and regulate the boat areas."
But today's patrol was very special because they used their brand new boat. PACT, MAR FUND Columbus Zoo along with other partners donated this new skiff to Sea to Shore Alliance - it is a much needed gift.
Angeline Valentine - Enriquez, Project Officer, Mesoamerican Reef Fund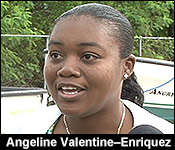 "Basically we saw this initiative as a very important one, manatees have been facing quite a bit of challenge over the years and we are all very familiar with those challenges due to work of Sea to Shore Alliance."
Jamal Galvez
"Today is a good day for manatee's. It is a project we have been working on for a long time trying to get our very own manatee rescue boat so we can be more mobile and be able to respond more quickly and to be able to spend more time on the waterways to ensure that boaters are complying with the no-wake zones and stuff like that."
"We do have a bigger boat we use for research but it is bigger, it is not mobile or it is not easy to take out. This one can get you into smaller areas, it gets you to respond quicker, the fuel is less."
Courtney Weatherburne
"So this is the first small sized boat you guys now own for yourselves?"
Jamal Galvez
"Correct."
Now while this new boat will enhance patrols, it won't solve the problem all together. Despite numerous efforts at educating the public - there are still many reckless tour guides and boaters who speed along the waterways - injuring and killing manatees with their motor blades. 40 manatees were killed in 2017 and this year isn't starting off so well either.
Jamal Galvez
"We still have an increasing trend in manatee deaths which to me shows that there is a direct result that there is a decrease in population because every manatee that we can save and keep in the population is another one to the population. This last year we had 40 dead manatees and we are already at 3 for this year, we are early into this year, two of them are from boat watercraft collision and the other one is an orphan calf which was rescued yesterday in Sarteneja."
But Galvez hopes that all the stakeholders can work together for the sake of manatees.
Jamal Galvez
"Manatees are important to Belize, tourism is important to Belize and conservation and tourism should go hand in hand, not separately at all."
The boat costs $30,000. UNO gas station will donate 50 gallons of fuel every month for a year so the team can go on these patrols. A Port Authority Officer will also tag along to help with enforcement.