The Mayor Wants A People Friendly Commercial Center
Fri, January 12, 2018
Last night, your hear Belize City Mayor Darrell Bradley saying that after 31 months of delay, the renovation of the downtown Commercial Center has started.
He has promised that it will be completed in 10 months - refurbishing a structure that is almost at the point of being condemned.
Bradley told us yesterday that there are designs plans, which he hopes will make residents feel more connected to the building, since it will become City Hall, among other things. Here's how he explained it:
Darrell Bradley - Mayor, Belize City Council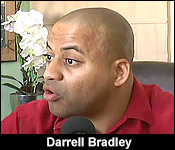 "I think that we had revealed to the media in relation to the renderings, how the building is supposed to look. We were talking about locating a quite nice restaurant on the back area. We're gonna do a deck so that residents - the lower flat is going to be like an open public area with stores, and this hall that we're talking about, and it's going to be like a park. So, you can actually go to the back of the building, and you can walk on the deck. You can see the fishermen's boats. You can look at the river and so forth. So, we want this to be like the people's hall. It's gonna be a building located in the downtown that's accessible to members of the public. So, that they can feel connected to with the governmental apparatus of the City Council."