Police Found Buckets Of Weed
Fri, January 12, 2018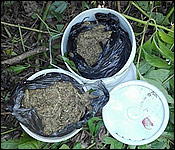 Police are reporting that they found 2 buckets of marijuana and a bag of bullets.
The first search happened yesterday in Roaring Creek Village at around 10:45 am. That's when police conducted a search in an abandoned lot in the Capital Hill area in Roaring Creek Village.
There, they found two small white buckets and two plastic bags containing a total of 1.988 kilos - or 4.38 pounds of marijuana. No one was present at the time of the discovery so the drugs were deposited as found property.
The other searched happened yesterday at around 2 p.m. on Belize City. The cops say that they visited an area of the Jane Usher boulevard area, and they searched an abandoned lot. They ended up finding a transparent plastic bag, which contained 10 live rounds of 9 millimeter ammunition. Again, nobody was in the area, and so they ammo was deposited as found property.