Latest reports are that three Belizean security guards and their American boss are tonight still in the custody of the Mexican military. As we've reported, Belizeans Curlin Thompson, Martin Miller, and David Gomez along with the Vice President of Las Vegas Casino George Hardie Jr. were detained by the Mexican military over the weekend after they attempted to enter Mexican territory with 9 milimeter guns. They were allegedly in pursuit of Mexicans Edwin Navarro Meneses and his nephew Felipe Rosado Navarro. The Navarros had reportedly left the casino, which is on the Belize side of the border after a confrontation with staff.
Mexican media reports are, and now eyewitnesses tell us, that Hardie and his elite security guards, known as the Cobras, jumped into his Lincoln Navigator and sped after the Mexicans into Belize territory and that's what landed them in jail. Keith Swift was at the border today looking for answers.
Keith Swift Reporting,
These photos on the front page of today's Diario de Quintana Roo show Sunday morning's dramatic arrest and detention of 3 Belizean security guards. The photos are from Sunday morning when Martin Miller, Curlin Thompson, and David Gomez – were handcuffed and sat in the pan of a Mexican military vehicle along with their boss - John Hardie Jr., Vice-President of the Las Vegas Casino.
This is where it all started, the Las Vegas Casino. The story of what exactly transpired varies but we do know this: two Mexican nationals were involved in an altercation with three Belizean security guards along with George Hardie Jr. He is the son of the casino's owner. One witness told us off camera that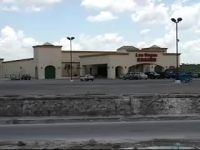 at 3 am the Mexicans were attempting to leave the casino and that's when trouble started.
Witness #1,
"Security people stopped them and told them they had to continue gambling in the casino and they refused to continue because it was three o'clock and they wanted to go home so they forced their way out and they just ran and then three security plus the boss man followed them with guns and tried to shoot on them."
Another witness – who also spoke to us off camera – says that she was pulling into the drive away at about the same time that gunshots rang out.
Witness #2,
"The Mexicans vehicle just flew quickly and then Mr. Hardie, the son, he was driving his vehicle and then the other guys, I think it is like a Cobra Unit, told him that they can see if they can try to catch these guys. They seemed kind of like in an hurry because both of them had fired gunshots, it was like 20 gunshots at that time. It was outside though."
Keith Swift,
Both the Mexicans and Belizeans fired shots?
Witness #2,
"Both of them. Of course we were scared because my mistake one of the gunshots could have hit my vehicle and I could have been one of the persons injured."
Keith Swift,
And you said you heard 20 shots?
Witness #2,
"Probably it was like 20. It was a lot of gunshots and people were kind of scared because I was like kinda freeze because I didn't know what was really happening."
No one at Las Vegas would talk to us but Corozal Mayor Hilberto Campos and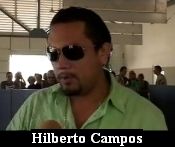 Minister of Local Government Gabriel Martinez did. Both are friends to the now jailed casino owner and this afternoon they travelled to Quintana Roo to visit him.
Hilberto Campos, Corozal Mayor
"We are travelling over to visit them. We are already working with Mr. Jorge Valencia whose supposed to be the Mexican consulate but we're trying to see in what way we will be able to assist them and again this is personal. He is my personal friend, I sympathize with him and the other three Belizeans that are locked up there. I am sure that after today I will be able to update myself about the present situation, if they have been charged or what is happening there."
Keith Swift,
Do you know if they've been to court?
Hilberto Campos,
"I think they've been to court, I am not sure but I am going over there right now. I'll be leaving with the Minister of Local Government, the Hon. Gabriel and myself are going over there to visit them personally."
Hon. Gabriel Martinez, Friend of George Hardie
"We will be travelling both just to pay him a visit and to understand basically what the situation is there. You know all the military and whatsoever the Mexican authorities have to do was basically beyond our control."
Keith Swift,
In your opinion did these guys make a mistake?
Hon. Gabriel Martinez,
"I am not so very much aware of all what took place that morning but perhaps if we are given an opportunity to talk to them we might be able to say some more some other time."
There is little they can do because men allegedly violated Mexican federal law and have been charged for attempted murder – but more importantly the federal charge for smuggling arms into Mexico. The penalty for that is 30 years in jail.
Up to just before news time we were unable to reach Minister Gabriel Martinez or Mayor Hilberto Campos to find out the outcome of their visit. Again that was a personal trip and not official. Media reports are that they have already been charged with attempted murder, grievous harm, and attempting to smuggle arms into Mexico. The attempted murder is for shooting Navarro who was injured in the chest. A security manager at the casino today deferred comment but was optimistic and promised that the casino will issue a statement after the release of the men.