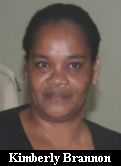 She first said armed men wearing masks did it, but 38 year old Plues Street resident Kimberly Brannon has confessed that she's the one who brutally chopped her boyfriend to death with a machete in the wee hours of Saturday morning. It happened behind the race track in Burrell Boom Village at 2:30 am. The victim Anthony "Antiks" Herrera was sleeping when Brannon chopped him to the neck with a machete. The lead investigator is Sgt. Dennis Myles from the Major Crimes Unit and he says an unrepentant Brannon confessed last night.
Sgt. Dennis Myles, Major Crimes Unit
"Well sometime after 6 pm yesterday whilst we were interviewing her, she finally mentioned to us that she was the one who caused the death of her common-law husband Mr. Anthony Herrera. She mentioned to us that she did it because she was involved in an abusive relationship and she was just tired of being in that relationship."
Keith Swift,
What sparked the attack on Friday night, was there an argument or something like that that led to the chopping?
Sgt. Dennis Myles,
"She mentioned to us that it was just a small misunderstanding she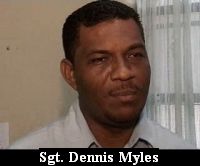 had with her common-law husband the night."
Keith Swift,
And was she asleep when she chopped him with the machete?
Sgt. Dennis Myles,
"Well we believe yes that the deceased Mr. Anthony Herrera was sleeping when Miss Brannon inflicted those wounds on him."
Keith Swift,
Did she see sorry for what she did?
Sgt. Dennis Myles,
"She told us she regrets what she did but the appearance tells us that she is comfortable with what she did."
Keith Swift,
And has she said why she came up with this story about masked men killing her boyfriend?
Sgt. Dennis Myles,
"I believe she believed that probably she could have used that so the police don't look at her and look in another direction. By what she tells us, she was kind of frightened, she was timid to inform anyone and that is the reason why she left Burrell Boom and came to Belize City to inform family members."
Brannon will be formally arraigned in Magistrate's Court for the charge of murder tomorrow. As we mentioned in May 26th 2006 she was charged for the murder of Paul Gonzalez and the attempted murder of Ruby Turner Mendez in Orange Walk. She was freed of those charges in June.