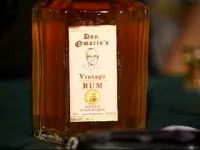 [ir Date: December 16, 2008]
Traveller's is celebrating 55 years in the rum business and they did it in high style this weekend with the opening of the Traveller's Heritage Center. It is located at their factory at mile 2 and a half on Northern Highway and it is a museum that offers a portal into the history of evolution of not only a company but an industry. That industry was perhaps started by the founder of Traveller's – Omar Perdomo. He has passed on, but his memory was alive at this weekend's launch.
Romel Perdomo,
"The opening of this historical center is two fold; it is one of the evolution of the rum industry in Belize as we know it today and about a true entrepreneur nationalist whose big dreams, stubborn perseverance, and steadfast work ethic inspired those around him. Today we at Traveller's Liquors live this man's dream. My father created more than just a business, he created a family. Here at Traveller's Liquors we are all a family."
Hon. Manuel Heredia Jr., Minister of Tourism
"The heritage center is the combination of Belizean rum making tradition and the journey that Traveller's has taken to offer products of high quality. Traveller's is indeed a pioneer of Belizean experience and an integral part of what Belize has to offer to its visitors."
Romel Perdomo,
"My father used to say the more horses in the race, the better your odds are of winning. He believed in creating his own markets and expanding his portfolio in the face of competition. However my siblings and I soon recognized the need to move away from merely protecting the torch flame from the wind of competition to carrying the torch forward into new markets and creating fresh ideas."
Maito Perdomo,
"He always spoke of a blend of the oldest rums we had, one that would be no year less than ten years old. Today in his honour we give you Don Omar's Vintage 10 Year Rum."
The Heritage Center will be opened to the public later this week. Traveller's currently bottles 20 different types of rum and liquor.