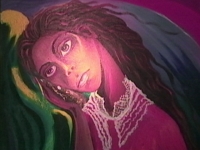 This week is Women's Week and while you can expect the usual workshops, forums, and parades. This year the Women's Department has added an art exhibition to the list. The artists range from female inmates at the Hattieville to cutting edge artists like Angela Gegg. The show opened this afternoon at the Image Factory. Here's what it looks like.
Bernadine Waight, Inmate & Artist
"For me I see that we were together as women and the theme we came up with, 'united women working together for a brighter future,' and this shows that we can accomplish whatever we put our minds to. At the end of the day it is up to us. Like I mentioned earlier, yes, we made mistakes and all we are asking society for is to give us a chance. If we fall yes we fall but we are asking society to give us a chance."
Carol Fonseca, Dir. Of Women's Department
"Today the work that you see here is actually the work of the female inmates at Kolbe Correctional Facility and also the work of women's group throughout our country who the Women's Department works along with."
The show runs for two weeks and is open to all.