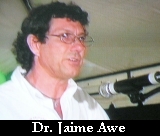 The 3rd annual Archaeological Symposium was opened last night at the Cahal Pech Maya site in San Ignacio. In his opening remarks Director of Archaeology Dr. Jaime Awe pointed to the fact that this is the first time the event is being held outside of Belize City. Awe also highlighted the importance of the archaeological symposium.
Dr. Jaime Awe, Dir. Institute of Archaeology
"This is, I should say, the first time that our meetings are being held outside of Belize, a move that reflects our Ministry's and Institution's goal of providing knowledge abut our cultural heritage to all the people of Belize. Attendance to this year's symposium has also increased considerably and will include more than 30 papers that will address diverse topics in the history and pre-history of Belize. This large number of participants is directly related to an increase in the number of archaeological projects in Belize over the last few years and it also reflects growing research interest in the pre-history of Belize. This symposium certainly serves as a testimony of the Institute of Archaeology's commitment to provide knowledge of our cultural past and its dedication to the research, protection, preservation, and sustainable management of Belize's cultural and archaeological resources."
At last night's ceremonies Prime Minister Said Musa and Minister of Education and Culture Francis Fonseca were presented with the compendium of last year's symposium. It is a massive volume, 470 pages long called archaeological investigations in the eastern Maya lowlands. It compiles 35 different research papers for last year's symposium.