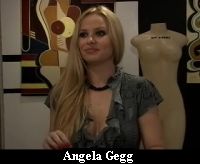 On Friday of last week we told you about the opening of Angela Gegg's provocative art show, Impulse. But pushing the envelope is her thing, and the show pushed it halfway across the table of convention and now a book is pushing it that other half. The book is called Artist Confessions. Like the writer, the work is brutally frank and almost effortlessly controversial. She told us that she is trying to pull readers into a world of enhanced perception.
Angela Gegg, Author
"Like I said it is a thought provoking book. You can read something but if you have a visual aid next to it, it is like boom you get the sense after you read it. Sometimes people will read something and are like okay and then you have that visual aid and you're like holy crap I get it. Often times the poetry people don't get it and then if you have that visual aid next to it they form something so different.
I know I don't think like the average person. I look at things and see things very differently. I look at an orchid and I may not see an orchid. I look at a conch shell and that is not what I see all the time. And in the book I am probing a lot of that. Because it is the truth, it is the raw truth. I do it for me but people can relate to me because people are out there who think like me but are afraid to say what they have to say because they are afraid of the repercussions from people, they are afraid of what people might insinuate or think or say about them. I get tons of mails, tons, especially from young ladies who say like your work what it means to them and how much they can relate, especially when I talk about relationship issues."
The book is out now; it is available widely and on the internet.