Today is World Health Day, and the Belize Family Life Association took the opportunity to announce the winners of its Health & Wellness competition for schools.
In an interview with 7 News, an emotional Joan Burke found it difficult to hold back tears as she explained how important her association's work with schools has been to her….
Jim McFadzean
"What brought this program to this point where its brought you to tears?"
Joan Burke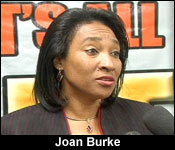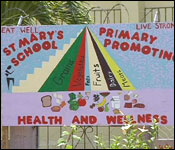 "First of all we (BFLA and partners) put a lot of value in our children and when I look at the faces here today and when I look back to the efforts of the teachers, even for some of the parents and some of the conditions that we found the schools and it pains my heart to know that children are expected to spend anything between 4-6 hours in these environments. We know that the teachers do their best with the little resources that they have. We identified schools where the bathroom facilities were so inadequate, some of the classrooms so inadequate - foundation for our children. But when we are destroying or not supporting the foundation it reflects later on what happens in our society and so today I wish that we could have given all the schools that participated the very thing that we gave to the winners today - but of course it is not possible, even for us we applaud the efforts of our partners, but this event alone cost us almost $25,000, you know preparation and planning and everything and so I wish I had the money - the resources at BFLA that we could do this to support the schools."
The competition was sponsored by UNICEF and the Summit Foundation. Winners received gift baskets, school supplies, and cash prizes. St. Mary's Primary came in first place for the elementary competition, while Belize Elementary took second, and Libertad Methodist placed third. For the Secondary competition, Sacred Heart High School placed first, while E.P. Yorke took second, and Maude Williams High placed third.