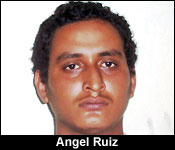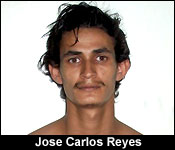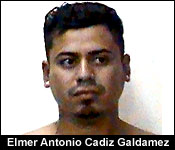 The Salvadorian based MS-13 is one of the most feared gangs in the world….well imagine them having meetings right under the nose of the Police Department, right in front of their Raccoon Street Headquarters.
That's what the GSU believes was happening - and why the searched a home directly in front of Raccoon Street this morning. Searches were conducted between 4:30 am and 12:00 noon on a number of houses.
The apartment of Angel RUIZ, 19 years, Belizean maintenance worker of No. 14 Raccoon Street, Belize City was searched. The search resulted in the discovery of a marginal 0.5 grams of cannabis. He was arrested and charged with "Possession of Controlled Drugs". A similar search was conducted at an apartment of Jose Carlos REYES, 26 years, Salvadoran naturalized Belizean of the same address, at No. 14 Raccoon Street. Nothing incriminating was found. However, REYES openly admitted that he is a member of the MS-13 Gang. As a result he was arrested and charged with "Professing to belong to a criminal gang".
The GSU says he did display gang insignia on his chest but since it is was not in public, he could not be charged for that offence. Also, Elmer Antonio CADIZ GALDAMEZ, 26 years, Salvadoran taxi operator of New Road Belize City was also detained for being in violation of an expulsion order issued on December 6, 2007.
The GSU says All three are reputed members of the MS 13 gang operating in Belize City. This is the second expulsion of CADIZ. He will again be processed for expulsion and remanded to Prison until he can pay for his flight to El Salvador. On September 17, of last year he was also deported from the USA to El Salvador and has since returned to Belize.
The GSU is also checking with INTERPOL's regional office on their status in other Central American countries.