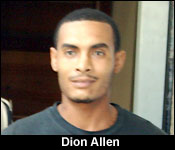 The gang truce is holding, gang members are working in their communities and getting paid by the government. The BDF soldiers in those neighborhoods have been scaled back…but no one's talking about getting rid of the Gang Suppression Unit.
And the GSU continues to kick up dust, and make arrests. Today they charged a man who is a member of a gang - but not a Belizean gang, an American one. 26 year old Dion Allen, a deportee and resident of #2 Eve Street was charged with professing to be a member of the "Black P Stone Gang."
The GSU detained him today and took him to the Queen Street Station where they say he admitted that he is a member of the Black P Stones.
That is a huge Chicago based Street gang, also known as the Almighty Black P Stones - with a reported membership in the tens of thousands - and one with links to the Chicago Based Belizean Bloods Gang - which made so much news last week. Allen pleaded not guilty but he owed an outstanding court fine of one thousand dollars so he was remanded to prison until December eighth.