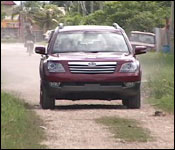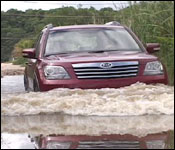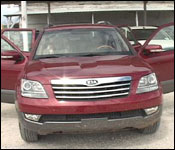 The auto show is coming up in ten days - when all of those vehicle you love to see but can't afford will be on display.
We got an advance look at one of the snazzy new SUV's today at Belize Estate.
It's called the Kia Mohave - and we put it to the test...
Jules Vasquez Reporting

Daedra Haylock - Sales and Marketing Manager, Belize Estate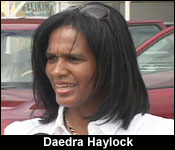 "The vehicle has the feel of off-road, as well as urban comfort."
Well, why did she tell us that? Because in Belize city's streets - there is no urban comfort and on road always ends up becoming off road.
So we put the Mohave to the Belize City Street test behind Belama Phase four, where the streets have no names and no pavement either.
It performed well even in these adverse conditions , fording across this lake Belama. And skipping effortlessly across this rather large mud trap
Operating the four wheel drive was a snap, and the six-speed auto-manual transmission was versatile and responsive.
According to Daedra Haylock, it's the Asian Explorer:
Daedra Haylock
"For us it's responding to Kia, and it's need to have a large SUV that meets the Ford Explorer, that we also represent - that could meet the Jeep Grand Cherokee that is also in our market, but also that will let the common man be able to have a range rover without the range rover name and price."
Okay, well maybe not quite a Range Rover, but was it was good fun, the 3.8 litre engine was peppy, the feel on the road was ample if not magisterial - and hey, how often do I get to drive recklessly in a new ride in the name of journalistic inquiry?
In terms of looks, the sqaureness probably most resembles the Explorer but at ninety-two thousand dollars - it's about twenty thousand dollars less than a the Explorer and not much difference in features and handling - but, then again, it's a Kia - not exactly a platinum name in auto manufacturing:
Daedra Haylock
"It's not a sub-standard vehicle, it's a quality constructed vehicle. You sent it on the test drive; you have the video to show what the vehicle is capable of. So, I am not uncomfortable at all with people who say, 'Well, the Kia line is not necessarily like the Ford, or it's not a Toyota.' Or it's not any of the other high lines that they want. I'm telling you, don't judge the vehicle by the price that I told you just now. Don't judge the vehicle by the look. Get in it; drive it."
The Mohave also comes with a diesel engine...