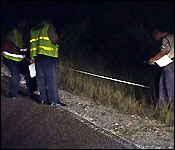 A bus driver who knocked down and killed a hearing impaired man was charged in court today; it turned his bus didn't have insurance. Twenty-seven year old bus driver Nelson Manuel Montalvo, a resident of Montalvo Avenue in Belmopan who allegedly knocked down Derol Dominguez, was charged with manslaughter by negligence when he appeared today in the Magistrate's court.
Montalvo was also charged with driving a motor vehicle not covered by third party insurance, driving without due care and attention and causing death by careless conduct.
Magistrate Dorothy Flowers explained to him that she will not take a plea because the offences are indictable. She offered him bail of 5 thousand dollars and adjourned his case until January 12, 2012.
On Tuesday, November 1 Dominguez, was riding a bicycle between miles 11 and 12 on the Western Highway when he was knocked down by a bus driven by Montalvo. Dominguez received severe head injury and died hours after being knocked down.