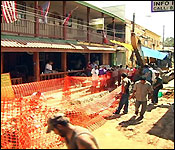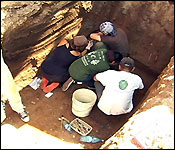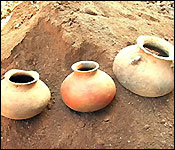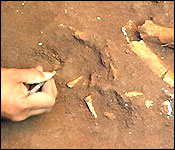 Visitors regularly visit the Cayo district to see spectacular and well known Mayan sites such as Xunantunich, Caracol and Cahal Pech. And while those were once centers of political and economic power in the Mayan World, the fact is that the pre-Colombian Mayas were scattered across the much of the Cayo district.
Dramatic proof of that came this weekend when a team digging up some pipes came upon ancient relics. Monica Bodden was in Cayo today to find out more:..
Monica Bodden reporting
Burns Avenue in Downtown San Ignacio turned into a Mayan exhibit as many spectators, including residents and tourists, lined the side of this ditch in the middle of the lane to check out a trove of Mayan artifacts that were discovered by construction men.
Included in the findings were ceramic vessels and several human bones which are believed to have been the bones of a Mayan man.
The discovery was first made on Saturday by a contractor who was doing some excavation to lay some pipes underground. Shortly after, the institute of archeology was informed.
Jaime Awe - Belize Institute of Archaeology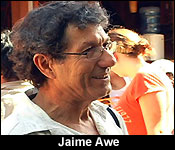 "Some of the things that have been discovered include some whole ceramic vessels - in fact you'll probably see them in your interview. In addition, we have found several bones of a human, it looks like an adult male - I will have to confirm that later on - also, several artifacts, things like obsidian blades. We found a couple deer antlers, I think the tooth of a peccary that may have been drilled or certainly used in prehistory times."
So what do these findings tell us about what was once there - long before San Ignacio Town?
Jaime Awe - Belize Institute of Archeology
"It tells us that beneath the street; Burns Avenue in this case, there was at one time part of a settlement, we know that settlement was part of greater Cahal Pech and we think that the backhoe exposed probably one or two houses that were part of this ancient community and based on the artifacts that we've seen it dates to sometime probably the first couple centuries before the birth of Christ, so in the late pre-classic period."
"So this is really exciting for us. It goes to show that San Ignacio town as a whole is built where ancient Cahal Pech use to once be."
These over 2 thousand year old artifacts may soon have a home in the new Welcome Center that is currently being constructed in San Ignacio Town.
Jaime Awe - Belize Institute of Archeology
"Initially when the excavator was exposing some of this, some people where collecting them, and I have to say that, thankfully, we think that most of the objects were returned to us, and I have informed all the pedestrians as well as the business folks along Burns Avenue is that our plan is that we can perhaps display these objects in the new welcome center that's being constructed. What better place to say welcome to the Maya heartland? And so these objects will end up there; we will have posters etc. and a description of what we believe may have happened on Burns Avenue more than 2000 years ago."
Awe says the findings tells us that there was a Mayan Settlement beneath Burns Avenue some 2 thousand years ago - which was a part of the greater Cahal Pech. His crew plans to complete their search by tomorrow so that construction can continue downtown San Ignacio.