Today a summit was held called "The State Of The Coastal Zone." It's a two day event which is bringing together a broad range of users, specialists, researchers and authorities to form a singular panoramic view of what's happening all along the coastline. Organizer Nicole Auil Gomez told us about the larger vision:..
Nicole Auil Gomez, Organizer, State Coast Summit 2012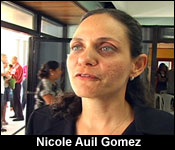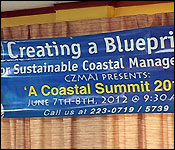 "This is an opportunity for experts to discuss the updates that are happening along the coastal zone of Belize including the cayes and coastal areas within inland. We discuss issues related to habitat, species, management, protected areas, finance, public relations, legislation, so it's really an overview of the development activities and things that are related to the coastal zone and it's to inform one another and also to draw information out from those that are working in the field and those that are not working in the field who can give outside perspectives."
Hon. Lisel Alamilla
"We have a draft coastal zone plan that we want to gather more information from the people participating at this meeting so that we can complete that plan."
Jules Vasquez
"The thing about the coastal zone is that there are so many competing interests; you have conservation as the preeminent, one would think the preeminent interest but you also have developers, you have fisher folk, you have recreational users. How do balance all this competing interest?"
Hon. Lisel Alamilla
"Jules, that is the role of the coastal zone management authority - to bring together all the different interest groups and to coordinate the activities and development that happens."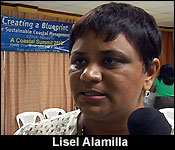 "The interest of the coastal zone management authority and the interest of the Ministry of Forestry/Fisheries and Sustainable Development is not to stop development and economic growth in this country but to facilitate in a manner that is responsible and considers the environmental impact."