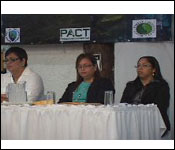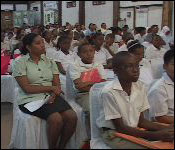 A commemoration and signing ceremony was held this morning - for the declaration of the Turneffe Atoll Marine Reserve.
The reserve was enacted In September, by Minister responsible for Forestry, Fisheries and Sustainable Development -Lisel Alamilla.
It's important because it manages the three hundred and twenty five thousand acre Marine Reserve - which is the largest in Belize and is considered the largest and most biologically diverse atoll in the Caribbean.
This morning's commemoration and signing ceremony took place at Old Belize where Minister Allamilla told us about this historic event.
Hon. Lisel Alamilla - Minister of Forestry, Fisheries and Sustainable Development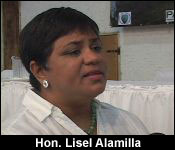 "Well, I think it's really a history event because from my understanding, the Turneffe Atoll has been a gap, like a big hole in the marine protected areas system of Belize. It was already recognized that it is of ecological importance, and that we needed to protect and manage it. But for whatever reasons, that had not transpired, so today, that was made possible. So, it's really - some people are telling me that more than 20 years ago, it was recognized that this was an area which really needed to be protected. It will be managed like any other marine reserve. Really, the way we manage and utilize marine reserves is that it's really to enhance them; it's a tool to manage the fisheries sector. Only 10% of the area is a no-take zone. So all the other area, people can fish in it and conduct other activities. So, it's really to more enforcement, monitoring and research going on. We were fortunate enough to have gotten a major contribution for the Bert Arelli Foundation in millions of dollars, which will be used to set up the management for Turneffe Atoll."
Monica Bodden
"Now, we understand that Belize is among 8 countries listed by the European Commission as having a poor track record in dealing with illegal, unreported, and unregulated fishing. The release indicated that Belize is not yet blacklisted, but is being given an opportunity to formally respond, refute and take measures to rectify the situation. What is being done to prevent blacklisting?"
Hon. Lisel Alamilla
"What I know about that - because I think that's a matter that really my technical staff would be better able to respond to - what I know is that we attended a meeting with the European Union on Monday. I read the minutes from that, and we - in fact, one of the things we have to put into effect is the legislation that we're presenting today, that has been pending the review of the Solicitor General's Office, and that will address some of the concerns that we have regarding high seas fishing. But, if you really want more details about that, I think that it's best that you speak to the Fisheries Administrator."
The theme adopted for this occasion by the Ministry of Forestry, Fisheries and Sustainable Development is "Sustainable Development in Action".