A Canadian man died yesterday after receiving a head injury while in the custody of Cayo police over the weekend.
But the Police say 35 year old Jeffrey Donald Furgula caused his own eventually fatal head injury when he slipped and fell due to drunken-ness.
Officer in charge of San Ignacio, Superintendent Ralph Moody told us that they picked up Fergula on Saturday night in the Savannah Area and he was very drunk.
He told us via phone they took him into custody so that he would not be harmed or taken advantage of - but on Sunday, police say he brought harm to himself:
Supt. Ralph Moody (Via Phone) - OC, San Ignacio Police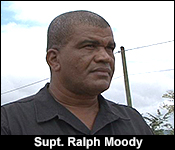 "He was picked out and escorted to the San Ignacio Police Station. This male person appeared to be under alcohol. He was processed, that is to say that his items were taken away. We questioned him as to his name and nationality, but could not respond to those due to the condition of his drunken state. He was locked up in a cell on that same date, and on Sunday, January 27, 2013, at about 7 a.m., police officers saw the body of the male person who was picked up in the Savannah area, lying down in the cellblock in a motionless manner. We received information that he fell inside of the cellblock and caused injuries to his forehead. He died this morning."
Jules Vasquez
"Is there any chance that he had been brutalized while in custody, beaten, or roughly handled, and that may have led to the fall which may have led to his death?"
Supt. Ralph Moody
"No, Jules, there was no one who caused any injury. There was no police officer who caused injury to that individual. We have recordings to show that this person was under the influence of alcohol, and he was assisted by 2 police officers out of the vehicle, into the station, and into the cell block. There was no police officer, or no one who caused injuries to that individual."
Jules Vasquez
"Perhaps due to the state of his intoxication, should you all have taken him to the San Ignacio Hospital?"
Supt. Ralph Moody
"Well, if he was escorted to the San Ignacio Hospital, there was nothing that the hospital could have done for him. But due to the fact that he was under the influence, we decided to keep him inside of the station so that we could assist him in a proactive way. But unfortunately, he caused injury to himself inside of the cell block by trying to stand up, and trying to hold on to the wall, and he fell."
A police press release says that witnesses in the other cells reported that on Sunday, around 1:00 am "they heard a loud sound which sounded like someone falling and thereafter a loud snoring" coming from Furgula's cell.
About five hours later, after Police found him unresponsive in the cell, Fergula was rushed to the San Ignacio Community Hospital and transferred immediately to the KHMH. By 11:00 am, he was in emergency surgery and doctors described his condition then as critical. He died 60 hours later - at 11:15 pm last night at the KHMH.
Police contacted his relative - who arrived in the country yesterday.