And one of the issues behind that discord might be – what we are told is the imminent signing of the Memorandum of Understanding with Norwegian Cruise Line for a cruise facility on Harvest Caye. Multiple sources suggest that it will be signed possibly this week. The MOU that we've seen is an initial copy, and some key provisions have since been revised. One provision that remains is that Norwegian would still get 60% of the 7 US dollar head tax.

As we understand it, there was some push-back on it from the BTB Board because that body has not been consulted – and the possibility of a cruise facility on southern Belize runs afoul of the National Tourism Master Plan.

Government's key man in the negotiation is Godwin Hulse, who heads a cabinet committee on investment. Despite numerous requests for comment, we've been unable to get any word out of him for two weeks. But today we caught him at an event, and here's what he said:…
Hon. Godwin Hulse - Minister of Labor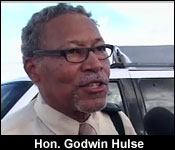 "We have looked at the project in depth and it was a little unfortunate that there were lots of reports that this is happening and that serves to trump up hysteria. Remember first of all this is called negotiation and when you come into Belize - or being the business man I've been forever - if I can get 50 or 100 years concession I will ask for two then we work down and down until we get it. The whole idea - remember I have said, they had to be some standard by which we analyzed these investments. The standards were that one - the project would be socially and economically acceptable and legally doable so the technical people have looked at that. Two - it had to bring revenue to government - there is no shame in that, the government has to make revenue because there's cost, we have to make at least a dollar and it has to bring foreign exchange because that's what we live by. Three, it has to create meaningful jobs, we have negotiated with them what meaningful jobs are - we don't mean $3.00/hour jobs - we listed the meaningful jobs. Four it has to protect the environment and if possible - enhance it. So we are satisfied that those criteria's have been met; remember this is an MOU - non legal and non biding - it says 'if you meet these conditions, the government will be prepared to do this'."
Daniel Ortiz
"Okay and you will release that tomorrow?"
Hon. Godwin Hulse
"As soon as the Minister returns and they sign - then we're free to go."
We'll have more from Hulse later on another newsy subject.