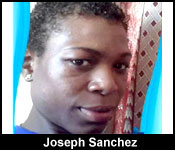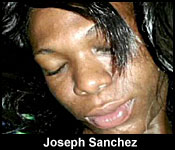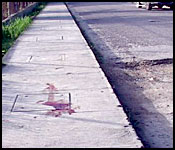 Tonight Belize LBGT community is reeling from the murder of one of its own. Joseph Sanchez, a Belize City teenager who identified with a transgender orientation was found dead on Sunday morning at 2:47 am in the Collett area of Belize City; he had been stabbed and dumped on the side of a street.
When police found the body on the sidewalk of Elston Kerr Street at 1:50 am, they thought it was a female, because the victim wore a white sleeveless vest, a short green and black skirt, with women's underwear and matching physique, and wearing a woman's hair style, makeup and jewelry. But Sanchez, who called himself Prince Joe was known to dress in drag, and wore a weave.
Police took the body to the morgue as a female, but didn't know the true sex of the victim until they found his phone and traced the number, it led them back to Joseph Sanchez, an 18 year old who was openly transgender. His murder - which is being called a hate crime has fused two burning issues: violent crime and violence against gays. We look at both in our report on the story:..
Daniel Ortiz reporting
Early on Sunday Morning, police found the body 18 year-old Joseph "Prince Joe" Sanchez. He was a popular and flamboyant member of the local LGBT community. The attack which led to his death has led the gay community to call it a hate crime against one of their own.
Sanchez was stabbed in the chest and left for dead on Elston Kerr Street. His family believes because of his expression of his sexual preference in the public, he was targeted for it.
Abner Sanchez - Brother of Victim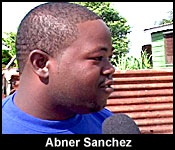 "I know that it was a setup because they called him out of his bed, he was already in bed. He doesn't normally walk those hours. He was always picked up. He walks out there and they deal with him out there. He had just left his house, the incident happened about 1:30am. On Saturday he spends the entire evening with me and then he went to a wake. My little brother doesn't mess with anybody. We always had his back. I use to always talk to him about his ways, but I can't judge him, he is my flesh and blood - I had his back."
And while that's what his family believes happened, that his assailant lured him to his death, gay rights advocacy group UNIBAM's information is that it was a random attack, which was escalated because of the way he was dressed.
Caleb Orozco - Executive Director, UNIBAM
"Based on our chat across the community that he was presumed to be a woman and when it was found that he was not a woman, he was stabbed in the chest. Our surprised is that he was presumed to be a woman and the intention was to rape. When they couldn't rape, they decided to take his life."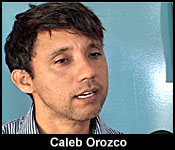 "For us it's a hate crime on several counts; it's a hate crime because a mother and a father lost a child. It is a hate crime because this young man was only 18 years old and his hopes and dreams were taken away from him brutally. It's a hate crime because he doesn't get to pursue his hopes and dreams. Beyond that he was robbed of his right to expression."
Abner Sanchez - Brother of Victim
"Yesterday he friends came and told me that he was receiving death threats from last week, but he didn't tell any of us anything. He got death threats by texts and he didn't tell us anything."
Caleb Orozco - Executive Director, UNIBAM
"This act was an act of intimidation and oppression."
That oppression, UNIBAM hopes will not be perpetuated by members of the public when they learn about what may have led to Sanchez's death.
Caleb Orozco - Executive Director, UNIBAM
"There will be a tendency to promote prejudice and say that he deserved it; look how he was dress. For me it robs the person of dignity. He is dead. Even if you don't like how you express yourself, has a right to commit unnecessary violence on another person's body. It's not your right. More precisely, we do more harm and good than blame the victim for what happen."
His assailant may have mercilessly slain Joseph Sanchez on Sunday, possibly because his outward expression of his personality, but his family is distraught by the sudden loss.
Abner Sanchez - Brother of Victim
"The entire family is crushed; they are torn up to pieces. Joseph didn't mess with anyone, he was a young boy. The ones that give trouble are I and my other brothers. Joseph goes to work, then home and then to school. He doesn't mess with anyone. When he walks on the street the boys tell him things. But he didn't pay them any mind. He just continue straight forward. He had a lot of friends."
Daniel Ortiz
"But he also attracted enemies just as quickly as he attracted friends right?"
Abner Sanchez - Brother of Victim
"He attracts a lot of enemies, either way they just hate on him, he doesn't mess with anyone. He tells us and my mom that this is his life and for us to leave him alone, so I just respect him."
Police have evidence which says that Sanchez - dressed in full drag - was seen walking up and down on Elston Kerr Street near the Lord's Ridge Cemetery after 1:00 am. The evidence says that two men on bicycles rode up and are tried to rob Sanchez. He put up a fight, and in the scuffle one of them stabbed him in the chest. Sanchez ran and collapsed a short distance away.
Police have suspects who they are seeking.
Joseph Sanchez would have celebrated his 19th birthday next month. He was 3rd for the 2013 Senior Carnival King competition, his second time entering.
And there were two more murders on a bloody Sunday in the city. We'll tell you about them in our next segment.