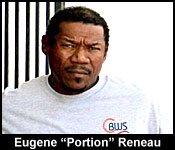 51 year-old Eugene "Portion" Reneau is at prison tonight after he was taken to court today because he allegedly forced himself on a woman and raped her.
Police say that they caught him in the act on last Friday morning at around 2:30 a.m. They received a tip about an assault happening at mile 10 and a half on the Northern Highway, and when they responded, they saw Reneau in swampy water. When the officers ordered them to get out, the woman reported to them that Reneau placed a knife to her throat and threatened that if she didn't have sex with him, he would kill her. Fearing for her life, she complied, and that when the officers saw them, he was forcing himself on her.
Police arrested and charged Reneau for rape. He was arraigned today before the Chief Magistrate Anne Marie Smith, who denied him bail, and remanded him to prison on May 28, his next court date.