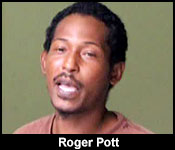 25 year-old Jeffrey Pott and his brother, 27 year-old Roger Pott are out on bail tonight after being accused of attacking 2 sisters, one of whom was allegedly raped.
A 16 year-old girl reported to police that on May 2, she woke up and found Jeffrey Pott on top of her 17 year-old sister having intercourse with her against her will because the young woman was drunk and asleep. She told police that when she saw this, she attacked Jeffrey Pott, and that's when his brother Roger intervened and pulled a hammer on her.
Police investigated the case for 4 weeks, and they eventually charged Jeffrey Pott with rape. Roger Pott was charged with wounding, aggravated assault and using threatening words. Because she attacked Pott, she was charged with wounding. They were all arraigned today before Magistrate Dale Cayetano and they were all released on bail. All 3 accused must return to court on July 31.