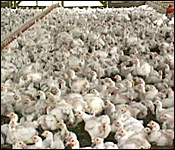 The Belize Agricultural and Health Authority (BAHA) is waiting tonight for the results of some poultry samples after detecting what they believe is avian influenza at two poultry farms in Spanish Lookout.
A release from BAHA says that they are on Heightened, active surveillance after poultry from 2 farms showed "very little clinical signs in the affected birds".
The health authorities are collaborating to coordinate a response against this limited outbreak. BAHA advises commercial and backyard poultry farmers across the country to step their surveillance and biosecurity measures, and to notify BAHA if there is any unusual occurrence in their flocks.
The release ends saying quote, "BAHA wishes to reassure the public that poultry meat and eggs are safe for human consumption." End Quote.