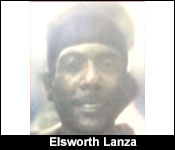 Tonight the Lanza family is asking your help to find one of their own.
34 year old Elsworth Lanza, a resident of 143 George Street, Belize City has been missing for over a month.
According to family members, Lanza was last seen on the 12th of September 2016 wearing a black T- Shirt and blue jeans with a pair of black and white tennis. He is over 6 feet tall and dark skinned.
Anyone with information leading to the whereabouts of Lanza is asked to kindly contact the nearest police station or contact Rita Lanza at 625- 0943 or 661 1857.